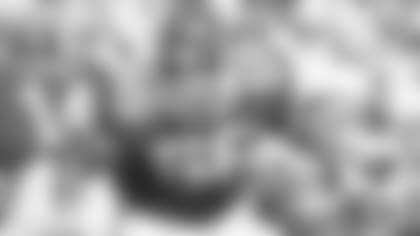 Having seldom traveled outside of his home state of Nebraska, after Randy Rasmussen was drafted by the Jets in 1967, mileage aside, his journey east promised to be a long one.
"When I headed out for New York, I said, 'I don't know where I'm going. I don't know what it's going to look like.' Thank God (training camp) was up in Peekskill. It's busy up there, but it's not the big city," Rasmussen said. "I wouldn't drive in (Manhattan), but somebody took me down there, and oh, man, you're just kind of amazed at everything – the size, the number of people, the amount of cars, the horns blowing and everything else. It was intimidating."
He may have been intimidated, but certainly not on the field. Chosen in the 12th round, 302nd overall, out of Nebraska-Kearney, Rasmussen not only made the team, he started every game as a rookie at left guard.
And Rasmussen's timing couldn't have been much better. In his second season, he helped the Jets post an 11-3 record, win the AFL Championship, and upset the NFL Champion Baltimore Colts in Super Bowl III.
"First of all, making it to the Super Bowl was a dream come true. But what was kind of ironic about it was how seemingly easy the whole thing was," Rasmussen said. "We had our game plan for the season and it all played out. We had a game plan for the playoff games and we're in the Super Bowl. One thing flowed to the next.
"My thought after we won the Super Bowl was, wow, we'll do this every year. This is easy. And then I found out the realities of pro football. But people were calling and sending telegrams and everything else from all over the country. It was a great feeling. I was on top of the world."
Rasmussen was at the bottom of a pile four seasons later when he achieved a rarity for an offensive lineman during an October game against the Miami Dolphins.
"We were running what we called power and were just trying to get a little movement so somebody could get in (to the end zone)," Rasmussen said. "I believe it was Cliff McClain who went up over the top. I'm at the bottom of the pile and all of a sudden, here comes the ball kind of working its way down through the bodies on top of me. It's right beside me. I took it and I could see the goal line. So, I slid the ball over the goal line and just laid on it, and it was a touchdown. There was nothing dramatic about it. It was just kind of weird the way it happened.
"And you know what's amazing about that? How many people that I don't know and you talk to, and now with Google and things like that, 90 percent of the time they'll say, 'Hey, you scored a touchdown!' To me, it was so small of an event, but people like it when you score touchdowns, I guess."
During his 15 seasons with the Jets from 1967-81, Rasmussen played in 207 games, second in team history to kicker Pat Leahy. He experienced the high of earning a Super Bowl title as well as the low of going 11 consecutive seasons without a winning record.
The definition of dependability while playing in three different decades, how'd he keep an even keel?
"You've got to say, 'We're here to play football.' Those bad seasons, you get bad vibes going on a team and it kind of starts cascading. You've just got to stay focused," Rasmussen said. "At that point, I was one of the veterans, and you try to show them how to practice hard and then when you get out there, play hard. That's what you've got to do.
"My whole theory on that is you've got to show up on Sunday. You've got to be there. Bob Fry, one of our coaches, said, 'What we look for is we want to know what we can get out of a guy week in, week out. That's what I like about you. We know what we're going to get week in and week out.'"
After retiring in 1982, Rasmussen was the Jets' radio game analyst for five years. He also did some NFL games for the CBS Radio Network.
"And then I got into the insurance business and I spent 25 years (as a V.P. of Financial Services for Rand Insurance in Greenwich, Connecticut). In any kind of sales business, and especially insurance, I would say the hard part was getting in the door to talk to somebody," Rasmussen said. "Well, there's no doubt on many occasions, knowing that I was with the Jets and especially that I played in the Super Bowl, a lot of these men and women that were in charge of these departments were kind of in that era where they remembered that Super Bowl game and remembered me over the years.
"I think (being a former Jet) was very valuable, but you can't put a monetary value on it because I don't know what that is. Because once you get in the door, you've got to be able to perform. I had a wonderful career. It was very kind to me and I was able to retire very nicely."
Rasmussen and his wife, Karen, are enjoying retirement at their home in Ferguson, North Carolina. They have three children and four grandchildren.