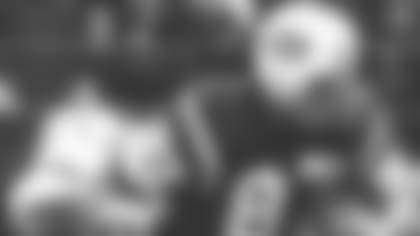 If you can't beat 'em, join 'em.
Well, it turns out that can also work if you do, in fact, beat 'em.
Tight end Pete Lammons helped the University of Texas upset top-ranked Alabama and Joe Namath in the 1965 Orange Bowl, and then became teammates with the quarterback the following year.
"I didn't know where New York was," Lammons said with a laugh. "(Texas teammates) Jim Hudson and George Sauer and Namath, obviously, went (to the Jets) after (the Orange Bowl) and I went back for my senior year. And then they drafted me (in the fourth round of the 1966 AFL Draft)."
Hudson and Sauer helped make the 1,522-mile transition from his East Texas hometown of Jacksonville to New York easier for their fellow Longhorn.
"They helped with the adjustment. There weren't any problems," Lammons said. "And several other guys took me under their wings. When they find out you're going to be around, they have a tendency to pay more attention to you."
By making the team in 1966, Lammons had clearly caught the attention of Jets coach and general manager Weeb Ewbank. In turn, Ewbank made quite an impression on the rookie.
"Weeb was an outstanding coach in that as long as you got accomplished what he wanted; he didn't care how you did it. He let you play," Lammons said. "Coaches at that level certainly are helpful, but pretty soon the players have to adjust to things that maybe you didn't know before.
"Something might come up that you didn't anticipate. So, it was always a learning process and Weeb was very helpful. He kept it pretty simple. It was blocking and tackling. If you do it you've got a better shot of winning and not making mistakes."
Lammons earned a trip to the Pro Bowl the following year when the Jets recorded its first winning season with an 8-5-1 record. In 1968, New York improved to 11-3, won the AFL Championship and upset the NFL Champion Baltimore Colts in Super Bowl III.
"My rookie year, we had a great shot early on and then people began to get hurt. And then the second year, we improved a little bit more. Got another position or two with somebody that could play. We could see that we were getting better and then it just kind of all came together the third year," Lammons said.
"You pick up a couple of players here and there in each draft, and really and truly, you look back at our drafting from Namath (in 1965) until John Riggins (in 1971), we did not have a No. 1 draft choice that could play. So, that really sets you back.
"The lower ranks, (Emerson) Boozer and me and a guy named Paul Crane (a linebacker) from Alabama and another guy from our group, (defensive tackle) Carl McAdams, you got four players out of that crowd. And the next draft, you got a couple. And then the next draft, you got a couple more. So, at that point you begin to put them all together."
The Jets brought members of the Super Bowl III team together last October 14 to celebrate its 50th anniversary at halftime of their game against the Indianapolis Colts. It was a memorable weekend for Lammons.
"Just being around and seeing the guys one more time, unfortunately knowing that it's probably the last time we'll all get together. Everybody's getting a little long in the tooth, so to speak, and injuries and illnesses and what have you taking the boys away," he said. "The Jets did a good job of having things for us. It was nice."
With New York for six seasons, 1966-71, Lammons finished his playing days with the Green Bay Packers in 1972 with 185 career receptions for 2,364 yards and 14 touchdowns. What makes him most proud of his NFL career?
"I guess just being able to be in a position that I was in. In other words, the time frame when I went to the University of Texas; Hudson, Sauer and I were all freshman together. We put things together there and won a national championship and then, of course, getting up with the Jets and winning a world championship, I can't bitch about much at all," Lammons said with a laugh.
"A boy from East Texas, a lot of things outstanding happened. I think there were 10 of us from the state of Texas playing with the Jets at the time. And, of course, four of us from the university; George and Jim and me and John Elliott. We kept telling them that if we get enough guys from Texas we'd win. They weren't sure if we were talking about the university or just the state, but whatever it was, they got them and we won."
Now retired and making his home in Houston, Lammons was in real estate and partnered with Hudson for 20 years in the thoroughbred horseracing business.
"I did it all," Lammons said. "I bred them, I raised them, I raced them. Had a lot of fun. I don't know if I made any money, but we had fun."