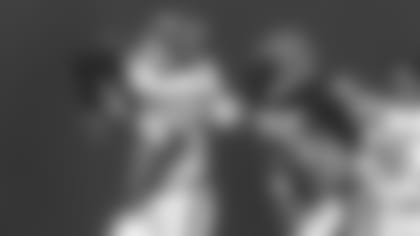 JoJo Townsell took a detour.
Chosen by the Jets in the third round of the 1983 NFL Draft, the UCLA wide receiver took part in New York's mini-camps, but then decided to accept an offer from the upstart USFL and play in the final five games of the regular season for the Los Angeles Express.
"They were able to offer a better contract, that and staying in California (is what made the deal attractive)," Townsell said. "I think a third thing was just health wise. Playing on natural grass meant a lot to me. The difference in playing on natural grass and having to play on artificial turf, that was a big issue for me."
After joining the Express late in the 1983 campaign, Townsell played two full seasons in Los Angeles, totaling 126 receptions for 1,992 yards, a 15.8 yards-per-catch average, and 16 touchdowns. He signed with the Jets in 1985.
"I had former (UCLA) teammates with the Jets with Freeman McNeil and Johnny Lynn. They had a lot of great things to say about the organization," Townsell said. "(Veteran wide receivers) Wesley Walker and Lam Jones, they took me under their wings during the mini-camps. I really appreciated that.
"There were a lot of guys that were still there that I got familiar with during the mini-camps I went to. I just felt very comfortable. The staff was great from the front office people to the coaches. I had some phenomenal relationships from day one."
Contributing mostly as a kick- and punt-returner with New York for seven seasons, 1985-91, the final campaign on I.R., Townsell's breakout year as a wide receiver was in 1989 when he posted career-highs with 45 catches for 787 yards and five touchdowns.
The fondest memory from his Jet days, however, occurred three seasons earlier during a September 20, 1986 game against Miami even though Townsell didn't have a single catch or return.
"It was when Wesley (Walker) had that four touchdown reception day against the Dolphins and we won the game in overtime (51-45). It was exciting to be part of that. That's when I finally felt, OK, this is the NFL," Townsell laughed. "I was really excited for him, excited for our team. We were battling them for first place (in the division), so that was a big win for us.
"I enjoyed when my teammates were doing well, especially at the receiver position. We all were very close. And whenever they had a chance to really showcase their talent, I was excited for them."
Able to showcase his talent in two leagues, how would Townsell compare playing in the USFL to the NFL?
"The difference is that with the NFL, you have the best of the best. Even though the USFL, we ended up getting some really good players that went on to not only play in the NFL but became Hall of Famers," Townsell said.
"The USFL was just like in the college days, one week you could be playing against a wonderful team and the next week that team may not be as talented. But in the NFL, from an individual standpoint, you knew that everyone in the NFL, those guys are the best at their position.
"Even if you may have more that are more talented, still, you had to bring it. You had to bring it every play or you were going to be embarrassed. So, let's just say the chances of getting embarrassed increased in the NFL."
Following his playing days, Townsell returned to his native Nevada where he and his wife, Suzi, founded the non-profit MEFIYI Foundation. Standing for Me-For-Incredible-Youth, Inc., its mission is to promote, encourage and support amateur athletics, recreation programs and physical fitness for students.
"As a whole, we normally work with (250 to 300) from our different programs, but our main dynamic is probably around 80 to 90 kids," Townsell said of the Foundation based in Douglas County. "Some of our kids are just interested in the sports. There's some that are interested in the education. Some are interested in their career. Those who are interested in all three, that usually runs around 90 kids a year on average. But our mission is to reach as many Nevada youth as possible, so we do reach out to the Reno/Sparks area and to some of the rural communities.
"We start at middle school age and get them to understand the importance of planning for their future. We feel that early preparation helps them prioritize their life. It gets them to understand what things that they need to do as they go from the grade level to high school graduation. And then, also, how their career can be established by the time that they do graduate from high school."