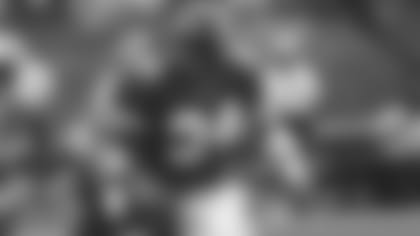 Being part of a crowded backfield was not a new experience for Johnny Hector, a running back selected by the Jets in the second round of the 1983 NFL Draft.
"In my freshman year at Texas A&M, Curtis Dickey was a senior and a first-round draft choice (in 1980 by the then-Baltimore Colts)," Hector said. "And there was Earnest Jackson, who ended up playing several years for (the then-San Diego Chargers, Philadelphia Eagles and Pittsburgh Steelers). And behind us was Thomas Sanders, who played with the '85 (Chicago) Bears and won a Super Bowl (XX). So, we had some backs at A&M."
There were some backs in New York, too – Bruce Harper, Marion Barber, Scott Dierking and Freeman McNeil, who was coming off of an All-Pro and Pro Bowl season in 1982.
"You can't take anything away from Freeman and what he accomplished. I played off of him for sure," Hector said. "A lot of times (opposing teams) were looking for Freeman and then I'm inserted into the game with fresh legs.
"I would just show that I do belong because I remember as a rookie and in my first couple of years, seeing articles that when Freeman was down, the Jets didn't have a running game. So, as a professional and just as a person, I was driven by that. I was kind of low-key and never said anything, but I was driven by that because I wanted to prove people were wrong in that regard.
"(And Harper and Barber) were my guys. More so just trying to get me to relax and stuff like that because I was nervous and wanted to do everything perfectly. And it backfired because I was so wound tight that I would make mistakes. And Bruce was like, 'Just relax. If you don't know something, just tell them you don't know.' In fact, I told that to Bruce last year, and he had never known that. And me and Marion Barber still stay in contact, as well."
Beginning in 1985, Hector also began to often make contact with the end zone. After being second on the team with six rushing touchdowns, he led the Jets the following three seasons with 8, 11, and 10 scores. The 11 trips over the goal line in 1987 also co-led the NFL.
"I think my feet kind of got me out of situations a lot of times. If you made a wrong read, my feet were able to get me back somewhat on track. So, I thank God for having quick feet," Hector said with a laugh.
With his fleet feet, Hector spent 10 seasons with the Jets, 1983-92. He is fifth all-time on the team with 4,280 yards, five behind Matt Snell, and third all-time with 43 touchdowns, 41 on the ground.
"I guess just being blessed and fortunate," Hector said was the key to his longevity. "I really feel looking back on my career, God just knew that it wasn't meant for me to have another 500 carries on my body. That's the way I look at it.
"And when you heard the guys say, 'Man, you don't stop. You don't quit. You don't give up.' All that stuff, that makes me feel that I kind of left it all on the playing field whenever I was called upon, whenever I played. I tried to do it 100 percent and give the fans and my teammates pretty much everything I had. I think I was able to accomplish that."
Making his home in Louisiana, Hector and his wife, Karla, have four children and three grandchildren. After investing in and managing real estate, working as a mortgage broker and for the district attorney's office in his hometown, he is now in oil field sales as an account manager for Accurate Measurement Controls.
"This is the first time with a company that's totally different than anything I've done in the past. But it's actually been the best situation for me because they've been in business for 26 years and has a very good reputation," Hector said. "So, when I go and meet with people, they already know about the company and know what we provide and the quality of work they're going to get."
And what does Hector enjoy about what he's doing?
"Going out and meeting people and developing relationships, that's been cool. It's kind of like a team concept. Because I done my own thing and kind of stayed behind the scenes. And having to get out of my comfort zone, if you will, because I'm fine just being some guy in the room," he laughed. "I'm good with just being Johnny as opposed to Johnny the football player. I'm very comfortable being just Johnny."