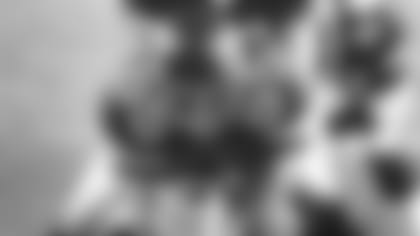 Widener University, a Division III school in Chester, PA, may not be the most active pipeline of players to professional football. It, however, came through when the Jets chose center Joe Fields in the 14th round, 349th overall, of the 1975 NFL Draft.
"I never thought I'd be drafted in any round, so it was disbelief," Fields said. "I received some letters stating that if I didn't get drafted such and such a team would be interested in signing me as a free agent. But that was really about it."
Fields and the others were not exactly greeted by coaches riding on a welcome wagon when they went to New York's training camp at Hofstra.
"It was really dog-eat-dog," Fields said. "Training camp was really rough back then. We basically had nine weeks of camp with six preseason games. It was a revolving door. They continued to bring people in. They might cut somebody today and they'd bring two more in the next day. They were cutting down to 43 players then."
After contributing mostly on special teams as a rookie, Fields became the Jets' starting center in 1976, where he'd basically remain for the next 10 seasons before moving to right guard in 1987. What was the key to his longevity?
"Thinking the next day, I'd be cut," Fields said with a laugh. "I always thought they were looking to replace me. So, that keeps you on our toes. Not that I wasn't confident.
"Once I got to training camp, I always thought I could make this team. And then after I made the team, I always thought that I should be starting. And then after I was starting, I always thought I should be All-Pro. I always thought I should be at the next level.
"That's just how it was. I really thought that they were looking to cut me because I wasn't fast enough, was too slow, was something. They were always looking for somebody better."
Named All-Pro in 1982, as well as being chosen to play in the Pro Bowl in 1981 and '82, Fields was clearly regarded as one of the better centers in the league. Those were also the same seasons the Jets made the playoffs – for the first time since 1969 – which he felt was a long time coming.
"I thought we should have been in the playoffs in '79 and '80," Fields said. "I thought that should have been the beginning and for some reason we just couldn't get there. From '80 to '86, we should have been in the playoffs every single year."
And the reason they weren't?
"I don't know. It just seemed like for some reason, we just never got there. Even when we went to the (1982) AFC Championship, I really thought we would have won the Super Bowl because we matched up well against the Redskins. But Miami kept us out of it."
Playing for an extraordinary 14 season in the NFL, 13 with the Jets from 1975-87, and one, 1988, with the New York Giants, Fields retired having appeared in 186 games.
He retired for a second time just last week. In a working relationship with EP Henry, a hardscaping company, for the past 30 years, Fields was the Director of Contractor Services.
Making his home in Woodstown, NJ, with his wife, Ellen, they have three adult children: Kelsie, Christopher and Sean; and four grandchildren.
Fields' plans for retirement? "Whatever I want to do when I wake up that morning," he said. "I'm a fisherman. I like to go fishing. I've got my boat. And I look to spend more time with my grandkids."