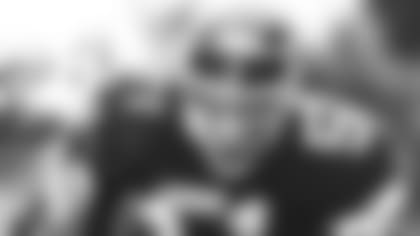 When the Jets chose Penn State's Greg Buttle in the third round of the 1976 NFL Draft, he, well, wasn't exactly the happiest linebacker in Happy Valley.
"I didn't like it. I was a Baltimore Colts fan, and I go from a Colts fan to a Pittsburgh Steelers fan because all of my friends (at college) were from Pittsburgh. So, I'm drafted by the Jets, who have (Joe) Namath as the quarterback, and I hated Namath because he beat my Colts in the Super Bowl when I was a kid," Buttle said tongue-in-cheek.
"The Jets were a lousy football team, and the one thing that I found out that they did have, they had a really good (linebackers) coach at the time, Walt Michaels. I don't think that I would have been able to play as long as I did if it wasn't for Walt Michaels."
The Jets didn't stray too far from being lousy during Buttle's first six years. But in 1981, they posted a 10-5-1 record, and made the playoffs for the first time in 13 seasons.
"Unbeknownst to a lot of fans, you weren't playing it for the money. You were playing it for the love of the game and for your pride, and for your teammates," Buttle said. "You don't go into each season thinking you're going to be bad; you go into each season thinking you're going to be good. Sometimes it doesn't turn out like that. Sometimes you're worse than you ever could imagine, and other times you're better than you could imagine. It took a little while."
What didn't take a while was Michaels, who became the head coach in 1977, recognizing Buttle's natural ability to be a leader. Named as a captain during his rookie season, Buttle earned Michaels' respect and confidence and practically became a coach on the field.
"Walt Michaels gave me a lot of responsibility," Buttle said. "Walt had schooled me on what penalty was acceptable to take, what was not acceptable to take. And, of course, if I had any questions, you could always look over to the bench. So, I had a lot of leeway to do those type of things, not just call the signals."
With the Jets for nine years, 1976-84, Buttle collected 15 interceptions and scored three defensive touchdowns – one on a 44-yard interception return off of Patriots quarterback Steve Grogan in 1977, and two following fumble recoveries during the first and last seasons of his career.
"The neatest thing I had was my friendships, the guys that I played with and what it meant to play with and for other teammates. You have wins, you have losses. The end of the road is about winning, and I'm not so sure that winning makes you happy all the time. A lot of guys (around the league) would just stay with the same team for as long as they could instead of going away in free agency," Buttle said.
"But I would tell you, your teammates really become part of your life. The locker room is not a locker room. What people don't understand is that that's our home and that's where we stayed and practiced and played and had our social gatherings. That's what you did almost 14 hours a day. So, that would be my fondest memory of the game, my buddies that I played with.
"The proudest thing is that you stay the course and you trust what you're doing is the best that you can do. I believed that when you go out on the football field, you play 100 percent for as long as you can play. I didn't take plays off and studied the game, so I was proud of my work habits"
Buttle is still demonstrating those exceptional work habits in his post-playing careers.
"I got a real early lesson on how to do certain things in the NFL. John Ebersole was my buddy and a former Penn State linebacker, and he was with the Jets when I got there. I visited with him one time and he had a couple businesses going, and I was amazed," Buttle said. "Here's John, a semi-huge businessman in Altoona when he wasn't just a football player. He says, 'You're going to have to do this stuff because you never know how long you're going to play. They don't pay us enough money to be able to support yourself. You've got to do something else in the offseason.'
"So, that was what I started thinking about. And the next thing you know, I'm in the nightclub business, I'm in the health and fitness business, I'm in the parking lot business, and then I'm in the predictive analytics business. It just snowballed as you go along. You find out what you can do, what you're good at, what you're limited at. I think administratively I was pretty good at what I was doing."
Opening bars and restaurants midway through his playing career – one, Aura, still exists – Buttle got into the airport parking lot business in 1991. And eight years ago, he became a founding board member and managing director at PathSight PNA, a predictive analytics business approach to customer engagement and communication.
"My partner and I discuss something almost daily about the business, how to go out and take what we have, that we think is a hell of a model for business and marketing. Talking about sales and human resources, all of those things that you can identify where there's a human interface we can affect outcome," Buttle said.
"(The restaurant and parking lot businesses) kind of like run themselves. After you've been in it for so long, you just have to make sure that you pay attention to the percentages that make your business run correctly and don't screw it up."
Buttle is also a longtime analyst for the Jets Radio Network.
"With (new owner) Woody Johnson, they came in and wanted to change the atmosphere of what the Jets organization was in the past and what it would be in the future," Buttle said. "They decided to get some of the former players more involved with marketing and publicity and even in the radio and the TV side of it. And I love it. It's a great way to spend a Sunday afternoon. I can't play anymore, so what fun is football to me? Well, the fun is trying to figure out why did you do that? How did you do that?
"I watch the game in an analytic way as opposed to a fan way. Sometimes you have to take the emotions out of the game to be able to compete at a very high level. It doesn't mean it's emotionless, but you cannot lead in sports just on raw emotion. I find that the analytic part really is a neat thing when I look at it. Almost like being a GM, a coach, because you can't be a player. So, I got the next best thing."
Buttle and his wife, Rita, make their home on Long Island. They have three adult children: Christina, Gregory and Allegra. And a granddaughter, Cosette, whom he affectionally calls Chopper.