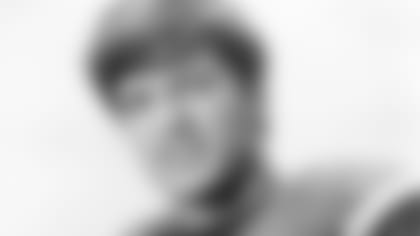 The Jets added two tight ends to their roster through the draft in 1970, Rich Caster and Gary Arthur.
Caster, out of Jackson State, was chosen in the second round. And Arthur, who earned first-team All-MAC honors three times with 66 receptions for 904 yards and six touchdowns while playing at Miami (OH) University, was selected in the fifth round.
"I'd been contacted by other teams and it just kind of surprised me. I don't know why, but it did," Arthur said. "But I was happy about it because they were kind of an established winner and had (Joe) Namath as their quarterback at the time. It was something I was excited about.
"(Only two years after from winning Super Bowl III), it wasn't a team that was struggling or anything like that. It was a team with a lot of established veterans, and so that was a big positive. I was just happy to be drafted. I mean, I never expected any of that. I was happy to get a scholarship. That was the only way I was going to go to college. So this was just kind of icing on the cake."
Going from playing in the MAC to the NFL would be one adjustment Arthur had to face. Another was moving from his hometown of Dayton, Ohio, to New York.
"It was quite a culture shift," Arthur said. "Growing up in Dayton, just a pretty blue-collar upbringing, I had never really been any place much. And so it was a pretty different place to be going. But I knew a few people that had gotten jobs there that I'd gone to school with, and so I had some friends and contacts there that helped make the transition. So it wasn't difficult. It was a lot of fun, actually. I really enjoyed New York."
Fifty-three years ago, the Jets chose 19 players in the draft. Add that to the number of free agents they signed and the returning veterans, it wouldn't have been difficult to get lost in the crowd and overlooked. Be an afterthought.
Arthur, however, didn't find that to be the case.
"There were a lot of guys I liked and hung out with. (Veteran Pro Bowl offensive tackle and future Hall of Famer) Winston Hill was particularly rookie-friendly. He was a great guy. He was just outgoing and friendly to everybody, I guess. But when you're a rookie, you know, it means a lot," Arthur said.
"Most of the guys were very welcoming and friendly. All of them, really. So there wasn't any real animosity. There wasn't a lot of hazing or any of that that went on. They realized that us contributing was to their advantage."
Spending the first half of his rookie season on the practice squad, Arthur was activated for the final seven games and contributed mostly on special teams. Indeed, a special time in his young life, did he take a moment when entering Shea Stadium wearing his Jets No. 82 jersey to think about what it took for him to get there?
"I did it every time I walked on the field. I looked around and saw where I was at and said, 'This is really cool,'" Arthur laughed. "I loved the game. I loved being part of that team. And I realized how special it was and just enjoyed every minute of it because you know it's not going to last forever."
Playing in all 14 games in 1971, Arthur was injured the following preseason during a game against in Dallas.
"You know, I was actually kind of blossoming into a player that year. I was starting," he said. "And I'll never forget when I watched that film. (Cowboys defensive back) Cornell Green, he had about a 20-yard running head start and slammed into my back. Things changed and I was out for the whole year, and that was kind of it."
Traded to New Orleans in 1973, Arthur was able to play two seasons during his three years with the Jets.
"My fondest memories were just being there. Just being part of the team," Arthur said. "Everything was good about it. The Jets did a lot of nice things for families. They had nice team gatherings.
"There's not one thing in particular that stands out. I appreciated every minute I spent doing it. It's just a unique experience that not very many people have the opportunity to get. And I realized that at the time and just took it all in.
"I had a couple of cups of coffee in the big time and it really helped me get into my business career and so on. You meet a lot of people you wouldn't ordinarily meet, necessarily. It kind of got me headed the right direction."
Following his playing days, Arthur became involved in real estate, and in 1981, joined a development company in Denver, Colorado.
"I eventually was a chief financial officer," Arthur said. "I raised money for office buildings and industrial buildings and things of that nature, that we developed. I enjoyed real estate because every project was different. It wasn't a repetitive type of thing.
"We developed in six different cities in the U.S. and two in Canada, and so it was kind of a regional operation. We got to visit different places and work in different places on different projects. I just liked that aspect of it."
Now enjoying retirement, Arthur and his wife, Laurie, continue to make their home in the Denver area.
"We have five children and 11 grandchildren, and they range from four-months-old to 14, so we're pretty conscientious about getting around and visiting them as much as we can. They're scattered all over the country. In Colorado, in Portland, Oregon, the Boston area, Columbus, and the D.C. area," Arthur said.
"We were traveling a lot, and with the pandemic and everything, we got into motor-homing. In fact, this summer we're leaving in June to go with a group up to Alaska. I'm really looking forward to doing that. It's about a three-month trip. So we're just traveling around, basically."