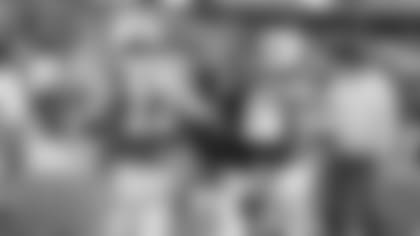 In 1969, man landed on the moon. The Jets won Super Bowl III. And Eddie Bell, a wide receiver at Idaho State, a D I-AA university, topped the country with 96 receptions for 1,522 yards and 20 touchdowns.
The following year, the Apollo 11 crew was back on earth, and the Jets landed Bell in the ninth round of the NFL Draft.
"Oh, I was, my God, elated," Bell said. "Joe Namath was the best quarterback in the business at that time. I couldn't have been happier. I felt like I was on the Super Bowl team although I didn't share the accolades and all the fun that they had when they walked through the stadium in Miami."
When Bell arrived at his first training camp and saw those players who walked through the stadium, he didn't ask for their autographs. But he couldn't take his eyes off them either. Particularly Namath.
"That's the only football player I've been nervous in front of, and I had hung out (in Los Angeles) with Jim Brown and Deacon Jones," Bell said. "I was impressed with Joe Namath. (Head coach) Weeb Ewbank had to walk over to me and say, 'Eddie, go catch him.' He could see that I was a little nervous and very respectful of Joe.
"I stood there for a long time just watching him throw that ball. I said, 'I don't believe it. I might be catching from him?' I wasn't no nobody, but in his arena, I was nobody. He's not going to go back and look at records of some receiver.
"I just wouldn't go over there until somebody sent me. I didn't want him to think that I'm the first-team player. I should be catching from Al Woodall or some other kid. You have to earn the right. That's what I thought, I really did. You have to earn the right to catch from him. This is Joe Namath! I just watched this guy win the Super Bowl. Don't go say anything to him if he don't say nothing to you. I wanted to stay out of trouble."
He didn't need to worry. In the fifth game of his rookie season, Bell made his first start against the then-Baltimore Colts when George Sauer was sidelined with an injury, and caught a game-high 12 passes for 151 yards and a touchdown.
"Joe came over to me and said, 'Eddie, I'm coming to you.' That's all he said. You're talking about chill bumps going down your arm, oh my God," Bell said. "First time starting, I'm nervous. I didn't think I'd ever be starting because Don Maynard's going to be in the Hall of Fame and George Sauer probably will be. So, what you do is catch everything they throw you. Everything. And when you catch it, come back running like somebody's after you."
Two seasons later and now a "first-team player," Bell made headlines against the Colts again when trailing by three points late in the fourth quarter, Namath looked around the huddle and well, simplified the game plan.
"Baltimore seemed to be my team; Joe always told me. And the way we won the game was he said, 'Richard (Caster), give me a go. Don (Maynard), do a go pattern. And Eddie, run your ass off.' That was supposed to be funny. I said, 'We don't have a play called run your ass off,'" Bell said with a laugh. "He said, 'Get out of here. Run your ass off.' And I did.
"(Charlie) Stukes was covering me, and he was their best corner. I knew he couldn't run with me. He backed up so far, he'd be clear out standing in the parking lot. When Joe said, 'Go,' I took off running like a cat out of hell. And I looked up and the ball was a little overthrown and that's because Stukes was already backed up.
"He was going up for the ball and a safety went over and something said, 'Keep running anyway.' So, he knocked the ball out of Stukes' hands and it fell right into my hands. I never broke stride. I kept on stepping for 83 yards (and scored the touchdown). It wasn't intended to be that way, but whoever was going to be open, that's who's going to be open. That (24-20 win) was a moment I'll never forget."
Now retired and making his home in Fort Worth, Texas, Bell is the father of three daughters: Pam, Nicole, and Joy; and the grandfather of two. Following his seven-year NFL career, six with the Jets, totaling 118 receptions for 1,774 yards and 12 touchdowns, and one with the then-San Diego Chargers, Bell was an officer with the Los Angeles Police Department. He then became an actor.
"I had already been studying at the American Academy of Dramatic Arts. I always wanted to act, so I did that," said Bell, who appeared on television shows including Wonder Woman, Maude and Hill Street Blues. "And I went to work with Dabney Coleman and Joanna Cassidy on the Buffalo Bill show. I was a cameraman, taking a picture of a picture in a picture. That was fun."