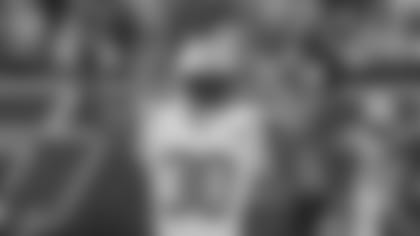 One man's injury is another man's opportunity.
After the Jets' three-time All-Pro cornerback Darrelle Revis suffered an ACL tear in his left knee during the 2012 Week 3 game in Miami, Darrin Walls was signed to New York's practice squad five days later.
An undrafted cornerback from Notre Dame, Walls had played for Atlanta the previous season. He injured his hamstring during the 2012 training camp and had been released by the Falcons a month earlier.
"When I first got to the Jets, I was basically trying to recover," Walls said. "So at that point, I was just trying to learn the defense as fast as I can, and also heal as fast as I can. But my mindset was mainly just trying to get healthy so that I can make an impact and have some plays on the defensive side of the ball and on special teams."
Learning and healing for seven weeks, Walls was activated from the practice squad on November 22, and made his Jets debut that evening during a nationally-televised Thanksgiving Day game against the division-rival New England Patriots at MetLife Stadium.
"I remember being super excited because it took a few weeks to get back healthy. But I knew that when I was back at full strength and full health, that I'd be able to help," Walls said. "It was big for me to play again. Some meaningful minutes.
"My first year (with Atlanta), we played a playoff game against the Giants. I remember that game specifically because I never had been in a playoff game. And so when I got the opportunity to play again the following year, it was almost that same type of feeling just because it'd been a while since I had meaningful snaps in a game.
"And my family was just super excited. They all drove up to the game (from our hometown of Pittsburgh) for the holiday, and we kind of made it a big deal. So it was it was fun and it was exciting and, you know, having that, was pretty cool."
Walls played in six games that season, mostly on special teams, and made his first career start in the finale against Buffalo. He went into 2013 with enthusiasm, looking to play his first full season.
"That was the year we drafted (cornerback) Dee Milliner from Alabama, but the biggest thing was that I had an opportunity to compete. To be a starter," said Walls. "And I knew I had a big role on special teams if I wasn't a starter. So I think my mindset was just to compete every day and learn from (veteran cornerback Antonio) Cromartie and those guys. Just try to be the best team teammate I could be."
A full-time starter at right cornerback in 2014, Walls led the Jets with 12 passes defended and co-led the team with two interceptions. His first came in a Monday night game, December 1, when New York hosted Miami. He picked-off Dolphins quarterback Ryan Tannehill and had a 25-yard return.
"I think we were in like a Cover 2-type of defense. I'd seen the back flare, and so I kind of throttled down in coverage," Walls said. "The ball got tipped up somehow. I'd seen and got it and was trying to score, but I think I made the wrong cut. If I went the other way, I might have scored.
"But it was pretty awesome and exciting, my first interception as a Jet. I think I dropped a couple prior to that one, so that one was special."
With the Jets for four seasons, 2012-15, what are among the fondest memories from his time with the Green & White?
"I think just being able to have opportunity to play against some of my college teammates like Harrison Smith and Sergio Brown, Kyle Rudolph, Golden Tate," Walls said. "It's having those type of games where I spent three or four years with those guys in college and then I got the opportunity to play against them in the NFL," Walls said. "And being able to jersey-swap with those guys and just being able to share the field with them again, I think those were probably my fondest memories.
"And obviously learning from guys like Antonio Cromartie and Darrelle Revis. Those are two of my biggest influences."
Released in training camp by Detroit in 2016, a suggestion from a general manager Walls had while with the Jets, led him into a second career in football – as a coach.
"I had a couple of workouts with teams, and that didn't go how I thought it would," Walls said. "And Mike Tannenbaum, he was in Miami (as an executive VP) at the time, brought me in for a visit, and brought me up to his office. Honestly, I thought he was going to sign me to a roster spot. But he mentioned to me that he thought I'd be great in coaching.
"I never thought about it until he actually said that to me. So that full year, I didn't play, and then the following spring, I was coaching a 7-on-7 team. One of my brother's old coaches saw me and he asked me to come coordinate his defense at a high school in Pittsburgh, Baldwin High School. I told him, 'I've never coordinated defense in my life, but I'll think about it.' And so I took the job, and once I did that, I kind of knew what my calling was."
At Baldwin High School for three seasons, Walls then became the defensive backs coach at Slippery Rock (PA) University for one season. And in July 2021, he moved on to the University at Albany (NY), where he's the co-defensive coordinator/ cornerbacks coach.
"Honestly, I just think the relationships that I'm building with my players and the coaches (is what I enjoy most about what I'm doing). Obviously, college coaching is different now with the transfer portal and the recruiting classes not being how they used to be," Walls said.
"But I think, for the most part, that the relationships that I'm building with the guys that I bring in and the guys that are in our room, I think it's just really awesome to see the growth and development over the months and years of them being with you. I enjoy just having an opportunity to change lives and to learn and grow from like-minded people and young men that want to make it to the next level."
Heading into his third season at Albany, Walls has found himself using things as a coach that he picked up as a player.
"There's a lot of different things that I use," he said. "But everything that I learned from playing, whether it was at Notre Dame, or in the pros, there are a lot of different teachings that I bring to Albany. Like from Corwin Brown, my defensive coordinator and corner coach when I was at Notre Dame, he taught me a lot of different things.
"I kind of revert back to what he taught me, just relating to the guys that I'm coaching. It's really beneficial just being able to look back on some of the teachings that you've learned in college and some of the things and techniques that guys like Darrelle Revis taught me."