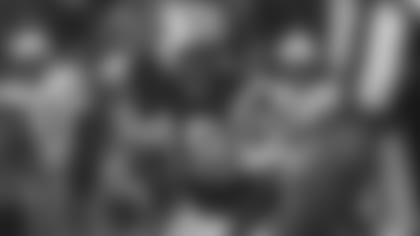 Cornell Gordon played the odds.
Selected in the 23rd round of the 1964 AFL Draft by the Jets, and in the 16th round of that year's NFL Draft by the San Francisco 49ers, the North Carolina A&T cornerback and quarterback, who was in his senior year, chose to take his shot later at playing professionally by travelling up the east coast.
"Both of the Jets cornerbacks had gotten hurt (during the 1964 season)," Gordon said. "San Francisco had four good defensive backs, so I went with the Jets because of the situation that I thought I would play quicker with the Jets than the 49ers."
Once in New York's training camp, Gordon found himself under the wing of one of those veteran cornerbacks who was injured, Clyde Washington.
"He was very good, and he taught me certain things which helped me very much. And I was thankful because I was taking his place," Gordon said. "He was the one that came down to North Carolina A&T and signed me. So, he was responsible for me being there for the most part."
In 1967, Gordon's third season with the Jets was cut short when he was cutdown during the opener in Buffalo's War Memorial Stadium.
"I intercepted a (Jack Kemp) pass and I was running back across the grain without looking," Gordon said. "And (Bills wide receiver) Elbert Dubenion, he wouldn't hit a fly, but he kind of squatted down in front of me and I ran into him and tore some ligaments in my leg."
Healthy the following season, Gordon helped the Jets post an 11-3 record, win the AFL championship, and Super Bowl III over the NFL's Baltimore Colts.
"We were good up front and we were good in the back," Gordon said. "Basically, we had five defensive backs that could play. The whole season, every time somebody got hurt in the secondary, I didn't start, but I played. I played right corner, left corner, strong safety and free safety. So, I played every position."
Backing up Joe Namath's guarantee that the Jets would beat the Colts, what did the victory do for the AFL?
"I think it put the AFL on the map because they said the AFL couldn't play with the NFL," Gordon said. "The Baltimore Colts at the time were supposed to be the best team in the world, and we beat them. And after that, Kansas City beat Minnesota (in Super Bowl IV), and it was on then for the most part."
With New York for five of his eight seasons in the AFL/NFL, Gordon collected 14 interceptions, nine while with the Jets. What makes him most proud of his career?
"I guess if I'd played later, like now or what have you, I guess we would have had to work a little harder," said Gordon, who spent his final three seasons with the Denver Broncos. "We didn't have sessions where they were training you for defensive backs like they do now, where it's more geared to people getting specialties and working out.
"I had never lifted weights. I always did pull-ups when I was coming up and I developed my body pretty good. But I think the reason I even got hurt during that time was because I never lifted weights with my legs, arms or anything else. We didn't lift weights with the Jets.
"Larry Grantham, I don't know how he even played linebacker. He was thinner than I was. (Linebacker) Ralph Baker was another one. He didn't have no muscle tone. But there was some kind of way we got through it and we won."
Gordon may have stopped playing following the 1972 season, but he didn't leave the game.
"I went to the city of Chesapeake (Virginia) and worked in the personnel department, but I was also working as an assistant coach with Norfolk State. We won something like three straight championships. I coached the defensive backs and worked with the quarterbacks," Gordon said.
"While I was coaching at Norfolk State, I did coach two kids that ended up playing professional football as defensive backs. One was Earl Jones, he got drafted (in 1980) by Atlanta. And the other was Ricky Ray, who was drafted (in 1979) by New Orleans.
"Then the principal at Manor High School (in Portsmouth, VA) came and asked would I like to be the head football coach. The team hadn't won one ball game in three years when I took over, and in my first year we won five ball games and were 5-0, and my quarterback got hurt. Once he got hurt, we just couldn't function, so we ended up tying a couple.
"And then I got the job as the girls softball coach, and as the girls basketball coach. I played three sports in high school, so I was familiar with all three sports. It changed over to (Woodrow) Wilson High School (in 1993), but I only coached girls softball there, and we won four district championships."
Now enjoying retirement, Gordon and his wife, Alfreda, make their home in Chesapeake. They have three children, seven grandchildren, and two great-grandchildren.
One of their grandsons, Keif Gordon, is a senior this fall at Manvel High School in Manvel, Texas. A center on the football team, he's highly rated nationally as a long snapper.