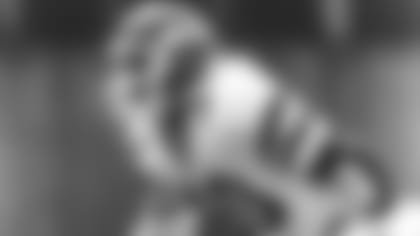 It's been suggested that a cornerback is a wide receiver who can't catch. That may not have been true in Bobby Jackson's case. Originally recruited to Florida State as a wide receiver by one-time Jets assistant coach Dan Henning, Jackson became a starting cornerback as a true freshman and never looked back.
Chosen by the Jets in the sixth round of the 1978 NFL Draft, Jackson was shown the ropes by his new veteran teammates Maurice Tyler, Burgess Owens and Lawrence Pillers.
"Maurice Tyler was the guy that showed me how to practice and what I needed to do to make the team," Jackson said. "He recognized my talent at corner, but he showed me how to be a professional. He said, 'Hey, the more things you can do.' Obviously, they brought me to play corner, but there's also some certain thing called special teams. That's how guys really make the team. So, I always wanted to be on special teams."
Much like when he was at Florida State, Jackson found himself playing on the first-team defense for the Jets almost from the beginning.
"We ran our (40-yard) time trials and I ran a 4.35 and Billy Hardee was the corner in front of me, and he ran a 4.6 or something like that," Jackson said. "Billy Hardee was a very good player, but we were competing for that position. And when they released him, and I was second on the depth chart, I knew that that elevated me to starter."
During his first season, Jackson and Owens co-led the Jets with five interceptions each. It helped that the rookie was motivated and well, frankly, a little ticked off.
"I'd always been confident in my abilities. And one other thing that I had making me elevate my level of play was, I was always told I was too small. People didn't see me as how well I played. When scouts looked at me, yeah, he's done this, that and the other, but he's only 5-9," Jackson said.
"I'm looking around, and (the Rams') Pat Thomas is only 5-9, and Pat Fischer, who played for the Redskins, was my height. When I saw Pat Fischer excel, I said, 'Man, I've got a shot.' Those guys gave me hope that I could play the NFL. So, I had a chip on my shoulder when I came in.
"And I was drafted in the sixth round. I thought I should have been a first-round draft pick based on four years of starting at the collegiate level and the accomplishments I made. So, I came in mad."
During a game against Miami at Shea Stadium in 1979, Jackson played as if he was furious over someone stealing his car, wallet and dog on the same day. He made personal history while taking it out on the Dolphins with a 58-yard interception return for a touchdown off of Bob Griese in the 33-27 victory.
"Teams usually have certain tendencies. They try to establish the short passing game or try to hit you deep early to get your attention. That's if you've got a reputation of being an aggressive-type cover," Jackson said. "I remember Jimmy Cefalo, who was a decent receiver, I just knew he couldn't outrun me. I think it was a quick out. I read it and didn't hesitate. I broke on it and happened to catch it on my fingertips and pulled it in. The rest was history.
"The thing I dreamed about was a pick-six. I'd never had a pick-six in my career going back to high school and through college. I had a lot of picks, but I never had a pick-six."
In 1982, Jackson had another pick-six and returned a blocked field goal attempt 80 years for touchdown in the same game – a 47-14 victory over the Vikings in Minnesota.
"Mark Gastineau blocked it and it got in the hands of Darrol Ray. And as he was running, I was on the side trying to block for him," Jackson said. "I saw they had him and I was in a point where he could lateral it to me. I was like, 'Give me the ball! Give me the ball!' He tried, but they had his arms pinned and he fumbled it. I was in the right place at the right time and was able to get it on the first bounce. I had one guy to beat, I beat him and walked in."
And the 77-yard interception return for a touchdown?
"It was toward the end of the game and they were in a passing mode, so we ran a coverage that I could gamble on short passes," Jackson said. "There was a bad exchange between the center and (Vikings quarterback) Tommy Kramer. The snap was high and he had to jump to catch it. It threw their timing off.
"I just played possum. I backed off and the receiver was open. I saw him running out, and when he threw it, I broke. It was perfect timing. I stepped right in front of it and 77 yards later I was in the end zone."
With the Jets for eight seasons from 1978-85, and a ninth year spent on I.R. with the Atlanta Falcons, Jackson collected 21 interceptions, which places him sixth on the New York's all-time list. What makes him most proud of his career?   
"The fact that I played nine years and was a durable, reliable guy my whole career. I'm proud of the fact that I was very aggressive," Jackson said. "Coach (Walt) Michaels said I was one of the most physical corners he'd seen. Saying that for a guy who was 5-9, 183 pounds is a compliment. So, I accomplished what I wanted, to show that I was big enough to play this game. I felt that I sustained my level of play for a long time. Bottom line, I had a great nine-year career."
Jackson's post-playing career hasn't been bad either. He was with Modell's Sporting Goods for 17 years, retiring in 2016 as the regional marketing manager/community ambassador.
"I retired to go coach in a new start-up football league that went under. I retired from my job on a Monday and I think the league folded on Thursday," Jackson laughed. "So, it just showed me that I wasn't really supposed to be a part of that.             
"I've been doing youth camps across the country with Football University, which has put a lot of guys into the NFL. Football University is basically coached by ex-NFL players and coaches."
Jackson and his wife, Jacqueline, make their home in the town of Hempstead on Long Island. They have seven children and seven grandchildren. For the past four years he coached at Chaminade High School in Mineola with former Jets running back Dennis Bligen. The school's varsity and JV teams both won league championships last fall.
"To see them get better, see them have faith in the techniques and in the confidence that you put in them, you kind of put out a real high bar for them to reach," Jackson said. "And when they reach it and you see them perform, that's what makes coaching really worthwhile for me."