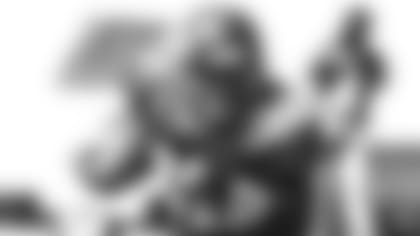 Throughout their nearly six-decade history, the Jets have chosen a running back with their top draft pick six times. None, however, was selected higher than when Blair Thomas was taken second overall in 1990.
Thomas, who rushed for 3,301 yards and 21 touchdowns while at Penn State, was Heisman Trophy finalist as a senior.
"I was happy to have the opportunity to play at the next level. That's something that you grow up dreaming about. You want to have that opportunity," Thomas said. "I kind of knew the night before. I got a call (from general manager Dick Steinberg) saying I was going to be picked by the Jets unless something crazy happens. So, when it did pan out that way, I was excited."
Even though he shared the backfield during his rookie season with second-year fullback Brad Baxter, and veteran halfbacks Freeman McNeil and Johnny Hector, Thomas was able to lead the Jets in rushing with 620 yards.
"It was something that I just had to work through," Thomas said. "It was tough because I was used to getting 20, 25 carries a game (at Penn State, and) to get that limited to 10 or 11 carries a game was kind of frustrating."
Leading the team in rushing again the following season, Thomas helped New York make the playoffs for the first time in five years.
"There was a lot of excitement because it was a while before we got there. I think I finished that year a little banged up, but it was true excitement, joy. Guys were excited making that run."
Thomas was "banged up" again in 1992, and only able to play in nine games, starting in seven. While there is little, if anything, one can do about injuries, how did he keep a positive mindset? 
"I had confidence in myself. That's the main thing," Thomas said. "I never had that many little strings of nagging injuries. A medial collateral (knee injury), lower back problems, having to take pain killers before the game even started.
"Just a lot of things. My body wasn't flowing the way it did previous years, before I got there. It was a difference for me."
A difference that took its toll. Thomas spent just four seasons with the Jets, 1990-93. Playing in 51 games, he totaled 2,009 rushing yards, a 4.3 yard-per-carry average, and five touchdowns. What are his fondest memories from those years?
"Just being around the guys," Thomas said. "I developed some good relationships while I was in New York. The camaraderie with the guys is always the thing that you miss the most as you get away from the game."
Thomas, who also played parts of two more seasons with Dallas, New England and Carolina, hasn't gotten too far away from the game. After coaching at Temple and at various instructional camps across the country – including his own, with the next camp scheduled for July 13 in Philadelphia for inner-city kids who are involved with the Blackhawks Pee Wee youth football organization.
This fall will be Thomas' third year coaching at Upper Merion (PA) Middle School.
"We played a sport that in some instances people say it's dying because of lacrosse. But since I've started coaching at the middle school, our enrollment has been up. So, I'm happy about that," Thomas said. "And instead of moving up to the high school, I want to still reach some of the younger kids because I think there's a lot to be taught to those guys before they even get to the high school level.
"You're only going to become as good as your coaches who coach you, who's giving you the knowledge, who's teaching you what you need to know. A lot of people are getting away from the fundamentals of the game. That's where the game starts. That's the exciting thing about having the opportunity to give back to the younger players.    
"I try to give back to a sport that's been very generous and gracious to me, and pass on the knowledge that I have to the younger players. I enjoy that aspect of my life."
Making his home in suburban Philadelphia with his wife, Lisa, Thomas has three children: Blair Jr., Lakeisha, and Preston. And a granddaughter, Ava.
Besides coaching, Thomas also does speaking engagements through the Penn State Alumni Association. And he has a topical aches and pain product – eMMortal Magnesium Therapy 360.
"Magnesium is a natural anti-inflammatory, so you get the swelling out, the inflammation. You'll have a better range of motion. It's been tested by major universities," Thomas said. "It's done wonders for my body. Hopefully some other guys can come on board and give it a try. I wish I felt this good when I was playing."