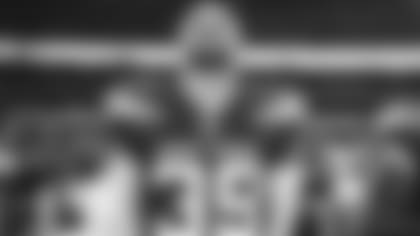 A three-way player, with 1,079 yards of total offense and 13 touchdowns to go along with four interceptions and 53 PATs, about the only time Bennett Jackson wasn't on the field during his senior season at Raritan High School in Hazlet, NJ, was when the marching band performed at halftime.
And after performing pretty well himself during his four years at Notre Dame, where he was a two-year starting cornerback and a team captain, Jackson made his way back home after the Giants chose him in the sixth round of the 2014 NFL Draft.
He would then bounce off and on of the Giants' and Baltimore Ravens' practice squads and I.R. over the next five years.
"Honestly, it was tough. There are so many struggles in the NFL as it is, going to a new team, going into a new environment," Jackson said. "I knew that I was capable of playing, and I knew that as long as I stayed healthy, I would have my opportunity to play.
"And in my mind, I felt like I was better than people. I just didn't have the opportunity to do that yet. But I stayed at it. I really just took things one day at a time. I didn't stress out about what could have happened if I didn't get injured. I just stayed in reality.
"I enjoyed playing. I enjoyed practicing. I enjoyed the schedule and everything that came with it. So I just took everything day by day, really. I didn't think too far behind. I didn't think too far ahead. I just worked towards my goals and I knew that as long as I put the work in and I prepared the right way, that things would turn out how I wanted them to."
Playing in four games for the Ravens in 2019, Jackson was claimed off waivers by the Jets for the second time that season and made his debut with the Green & White on December 8 against Miami.
"I was happy that I was able to go to the Jets," Jackson said. "One, because it was my hometown state. And if they're claiming me, then you know it shows that they want you. And at that point I just kind of really wanted to be wanted by somebody. I didn't have the sense that the Ravens didn't want me because we had a good relationship. I just knew that situations didn't make it possible.
"But I was excited. I was happy to be able to go to a team and be able to play and actually get out there and put forward all the stuff that I'd been working so hard to get. My first game with the Jets, I'm pretty sure that's when everybody got sick. I think there was a mono thing going on. We had a ton of moves going on with the team.
"I knew that I was going to be on special teams, and I loved Coach (Brant) Boyer right from the beginning. I knew that I was good on special teams. I enjoyed playing special teams. While a lot of guys, they don't want to play special teams, I was like, yeah, cool, throw me out there.
"I wound up bouncing back and forth with the practice squad a little bit there, as well, just playing the numbers game, but it's a process. It's just kind of part of it. I was just glad that I was able to stick it out and get through it. To continue to just stack on games and play for a couple more years."
Contributing on special teams that season and next when he played in four games after spending the first eight weeks on the practice squad and the last four on injured reserve, Jackson's fondest memory as a Jet occurred in his second game.
During a nationally-televised Thursday night game, Jackson was on familiar ground when the Jets traveled to Baltimore. They traveled back to New York with a 42-21 loss.
"Even though we lost pretty good, I had a lot of pride in that game just because it was a team I was coming from," Jackson said. "I wanted to show them what they let go at the time even though I felt like they knew. I just enjoyed that game, playing special teams, being able to make some tackles and getting up and celebrating and having all your guys around you celebrating with you. That's one of the memories that I remember most."
Playing his last game for the Jets in 2020, Jackson is now working out of South Plainfield, NJ, for Momentum Solar.
"We're the No. 1 solar company in the nation in customer satisfaction," Jackson said. "I started working as a salesman and will eventually start the process of becoming a manager. I think the company does awesome things. To work with a team is really what I wanted. That was one of my goals, be able to get around guys that I can encourage and motivate. I always thought I had a good personality and that I was able to relate to people and understand people and come across the right way.
"You know, it's a new chapter for me. It's a new routine, but I'm used to routine. It's new, but I'm learning every day. I'm enjoying it and I'm able to save people some money. It's good to be able to help people find an easier way to live and a more affordable way to live."
Jackson, who makes his home in Matawan Aberdeen area, is also helping people stay in shape.
"As I was trying to figure out (what I'd like to do after football), I was working with kids and helped run camps for the youth," Jackson said. "I spent a lot of time training high school kids and semi-pro DBs, some receivers. And I spent a lot of time training people for track.
"So I train in the area. The gym's called Sentinel Performance & Strength, SPS. It's right up the street from me in Marlboro. It has a ton of people, kids in high school, youth kids that always need a little extra work. It just kind of fit. I take a couple days out of the week where I can work with guys."