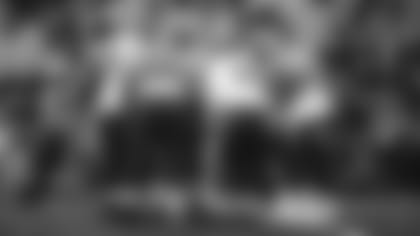 When the Jets 2019 season wraps up in December, it's feasible the turning point may have come after the team's Week 8 loss to the Jaguars. At that time, 22-year-old quarterback Sam Darnold walked into head coach Adam Gase's offense to discuss what plays suit him best within Gase's system. Since that meeting, the Jets have averaged 338.3 yards and 28.6 points per game. Given the offense's recent success, you may be wondering, "Why this conversation didn't take place sooner?"
"I think sometimes as a young player, you're trying to feel everything out and see how everything works and operates. You're learning and it was probably the right time," Gase said. "[Darnold] knew what he was getting really good at, he knew what was causing him to play slower, so he was able to exactly tell me what he was looking for and how I could help him.
"That's the direction we went there were zero issues from me. It makes it easier because now you're not guessing, you're not wondering what he likes and doesn't like. The communication factor there makes life easier if you're the play-caller."
The second-year QB added that the meeting furthered the trust and confidence between play- and signal-callers. Since their conversation, Darnold has thrown for 783 yards and six touchdowns with two interceptions while completing 65.7% of his passes. Against the Redskins Sunday, the USC product threw a career-high four touchdowns and the offense only had one three-and-out all afternoon.
"It was really good to continue those conversations and we have been over these last few weeks," said Darnold, who added, "I think it was really important for me at the time because I felt like I had a lot better understanding of the offense at that point during the season and I felt like I knew the offense well enough to go in and have a really good conversation with him about it. That's really all it was. As an offense, I feel like we've been able to find our rhythm and it's been really good. Hopefully we can continue that this week."
Jetcetera
On the injury front, RT Chuma Edoga (ankle/knee) underwent an MRI and is day-to-day, but Gase is optimistic the rookie will be able to practice this week. On the other side of the line, LT Kelvin Beachum re-aggravated his ankle injury against the Redskins.
"We'll see how the week goes," Gase said of Beachum. "I think he's in better shape than he was the first time. I do think that he feels better as far as being able to practice this week. It's a little bit different than what initially happened where he missed time, so we'll see how the week plays out."
Gase also added that LB Paul Worrilow (quad), S Matthias Farley (quad) and Darryl Roberts (calf) are all progressing in their respective rehabs. Additionally, the team will take a cautious approach with OLB Brandon Copeland (hip), who was limited in Friday's practice before playing Sunday.
"Hopefully we'll get him in practice at some point," Gase said. "He finished the game, obviously was a little sore, but we feel he did well in the game."