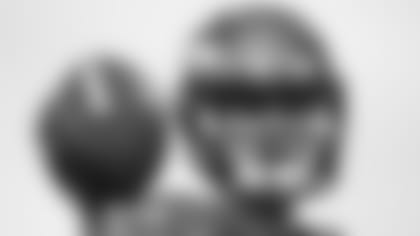 It's hard to imagine a lot of 22-year-old players who truly inspire their veteran teammates, but with his unique work ethic and uncanny throwing abilities, quarterback Sam Darnold is doing just that.
"He can be looking this way with his feet facing that way, but he'll throw it over here. That's not normal," RB Le'Veon Bell said of Darnold. "He's just such a special player that he's able to do that, and he can make those plays."
Since the start of training camp — and even as far back as OTAs and spring workouts — the second-year gunslinger has received a lot of praise for the progress he's made from year one. In the team's first two preseason games Darnold successfully led the offense to a touchdown drive in the opening series. And now, his teammates are not only noticing his growth, but they're taking notes from his game, too.
"Watching him each week, he continues to grow. He's understanding the offense better, he's understanding his players better and his personnel, and you can tell he's just taking over that role," Bell, the sixth-year veteran, said. "I say this all the time, but I've never really played with a younger quarterback, so for me it's a great opportunity to help him out a little bit in certain ways, and he helps me out in certain ways too. I can't wait to play with him because I know how special he is."
For Darnold, it's always been about the slow and steady evolution of his game, and maybe that's what makes it so exciting to his peers. He's talked in-depth about his focus on taking in the playbook one day at a time, adjusting and learning from mistakes at practice, and getting to know his teammates individually to help him better understand how to communicate. But this mindset didn't come over night — it all started with some very specific goals this past offseason.
"I think first of all, looking at my tape from last year and understanding where I can get better and how I improved the last few games of the season and just continuing to do those things that I improved on," Darnold said. "Also, just working on my body — getting my body right, my hips, all that. So, those are kind of the couple things that I worked on this offseason."
With continued consistency Darnold has already been able to see changes in his game.
"I think I'm definitely a lot less stressed out in the pocket. Last year, first year in the NFL, first couple of games especially, I was very spastic in the pocket," Darnold said. "These first preseason games, I felt I've been really calm and we've just kind of been driving the ball down the field and I think our offense has found a good rhythm."
As the regular season quickly approaches, the team's confidence level in its young quarterback continues to soar.
"Right now I feel good with him," Bell said. "He's a special player and I can't wait to go out there and be special with him."