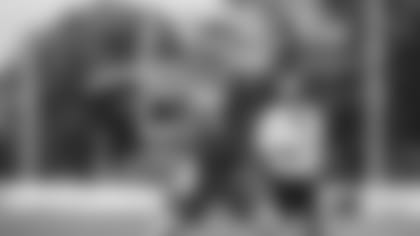 On the final day of Jets training camp, MMQB's Albert Breer came to One Jets Drive to watch practice. Breer, who documented the Green & White's scouting process that led to the selection of Sam Darnold in April, said one of the many reasons the Jets liked Darnold was because of how fast he plays.
"It's sort of an over-arching thing — you know it when you see it," Breer said. "I honestly thought you saw it in the touchdown pass against the Falcons. You saw what they meant when they said he plays fast. You saw what they meant when he escaped the rush and he saw him think of his feet. A lot of other quarterbacks might've tucked the ball and run with it. He consciously knew where the line of scrimmage was, he was working his way down the line of scrimmage and giving the ball to the receiver in a spot where he could catch it."
Breer was referring to Darnold's connection to Charles Johnson on a 14-yard scoring pass in the preseason opener against the Falcons. As a whole, reports from the Atlantic Health Jets Training Center in regard to the No. 3 overall selection have been positive, but Breer points out the USC product still has plenty of room to grow as a signal caller.
"He still needs some work under center," Breer said. "I think playing from under center was part of the issue on the pick against the Redskins. But if you talk to people in the building, you hear he's certainly able to take in all the lessons from the classroom and apply them, which is important. If you remember, this is a guy who comes into the league a little raw."
Darnold's first year as a quarterback came as a junior at Sam Clemente high school after he played linebacker as a sophomore. Despite being a little green at the position compared to others, coordinator Jeremy Bates has touted the 21-year-old for owning the playbook.
Bates shared an anecdote this week from Darnold's first training camp practice that displayed his mental capacity. The 6'3", 225-pound Darnold jogged out on the field after missing the first three days and started spitting out plays in the huddle without being in a meeting since minicamp.
"It's really encouraging from the Jets perspective to see him taking the lessons from the classroom and being able to apply them," Breer said. "I know the coaches here are really happy with his progress."