After being a position coach for nearly 19 years, Jets offensive coordinator John Morton feels like he's ready for his role as offensive coordinator.  Emphasizing competition throughout his first meeting with the New York media, Morton was asked what are the most important attributes he wants in a starting quarterback.
"Take care of the ball… and move the chains.  I think that's important," he said. "That's the No. 1 thing. That's what I preached this morning, first time going against the defense. I showed them cut-ups of how to take care of the ball and that's the quarterback making the right decisions."
Equipped with stats, Morton talked about the importance of turnover margin.
"You win 82 percent of your games if you win the turnover battle, so that's the biggest thing that we're going to concentrate on right now," he said, "and everybody competing to try and get better every day."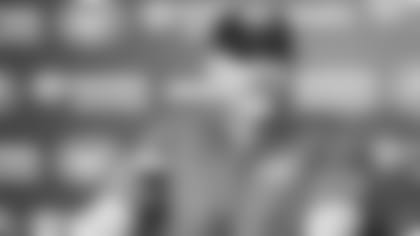 As OTAs commence, Morton said 15-year vet Josh McCown, third-year pro Bryce Petty and NFL sophomore Christian Hackenberg all will be rotating through and receiving the same amount of reps with the starters.
"I like how they're gym rats. I like how all three compete every day and they come to work," Morton said. "We talk about blue-collar mentality and that's what they do. That's what I love about them."
Morton, who said he'll call the games upstairs from the booth, was effusive in his praise for QB coach Jeremy Bates. After working together at USC, Morton will have Bates as his eyes and ears down on the field.
"Every game plan is going to be different based on who we're playing," he said of his offensive philosophy. "It's not going to be just one thing, this is what we do. I think that's important."