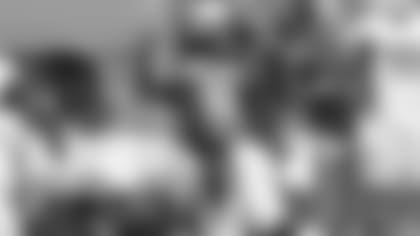 In his famous quotation from 2006 (the late) Dennis Green said: "They are who we thought they were." In many ways those words apply to the 2019 Raiders -- they like to run the ball and play their rookies.
Like the old-school Raiders, this year's team plays smashmouth football. Oakland averages 128.2 yards on the ground (No. 9 in NFL) and the Jets are No. 1, statistically, allowing 79.1 rushing yards per game and 3.0 yards per carry. NFL Network's Brian Baldinger, who watches film on every game every week, said that the Raiders don't try to trick their opponents, so the Jets on Sunday will need to stop the run to have a chance to win their third-straight game. 
"They line up in I-Formation with two tight ends and they come right at you in some form of power or toss," Baldinger said. "They run the ball. That's their identity and they're really good at it. They have a great offensive line and the best rookie running back [Josh Jacobs] and that's who they are. That's where it starts for them. They want to be able to put your weight on you and establish the running game.
"If they had a game plan where they said let's spread the Jets out and expose some young corners, which I doubt, but if it was and it wasn't working, the wind is blowing 40 miles per hour and Derek Carr isn't throwing it well, that's where they reset. That's the reset button — to get back to the run game and get that going."
The Raiders (6-4) have been lavished attention on their nine-man rookie class that includes No. 4 overall pick DE Clelin Ferrell; the NFL's No. 4-leading rusher, Josh Jacobs; last week's AFC Defensive Player of the Week, DE Maxx Crosby; and a pair of Day 3 draft picks — WR Hunter Renfrow (second on the team with 33 receptions) and TE Foster Moreau (4 TDs). If there's concern among Oakland's rookie class the Jets might be able to exploit, it is CB Trayvon Mullen. Mullen is likely to butt heads with the speedy WR Robby Anderson, who has 41 receptions of 20-or-more yards and 10 receptions of 40-plus yards in his career. 
"Trayvon is a talented player, he finished the game off with an interception last week, but he's susceptible to double moves and great speed," Baldinger said. "I'd get Robby out there on him and give him a little stutter-go. He's going to grab him, that's what he does, and he's going to get a defensive penalty. If you're not going at him at least twice in the first half, you're not taking advantage of what you have — speed against a young kid that's learning how to play."
The Raiders start both Ferrell, 22, and Crosby, who have combined for 10 sacks. Crosby, 22, Baldinger's favorite rookie in the NFL, had 4 sacks last week against the Bengals. The Jets have yielded just 4 sacks over their last two games, but LT Kelvin Beachum and RT Chuma Edoga are nursing ankle injuries.
"Nobody starts two rookie defensive ends," Baldinger said. "I know the Jets have had problems on the offensive line. I'd say that the Jets are more than capable, whoever they play at right tackle, of blocking both of these guys. If you could block them up, you'll have time to get the pass game going like they did last week."