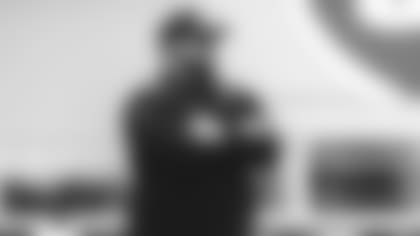 After meeting with Packers QB Aaron Rodgers in California and the future Hall of Famer recently declaring his intentions to play with the Jets, GM Joe Douglas was asked about the state of trade negotiations with the Packers in Scottsdale, AZ, at the NFL League Meeting on Monday morning.
"We're going to have to let this process play out," he told reporters. "Obviously we're not exactly where we need, but we're going to let this process play out and ultimately we do feel good where we're at."
A few hours after HC Robert Saleh said Zach Wilson would be the Jets' No. 2 QB, Douglas said the Jets would stick to their process in landing the accomplished veteran signal-caller to lead the team in 2023.
"I would say there's no hard deadline," he said. "There's not a ton of urgency from our standpoint right now but still very optimistic."
The Jets' focus remains on Rodgers, a four-time NFL MVP. At the onset of the AFC coaches breakfast, Lamar Jackson, the NFL's 2019 MVP, took to social media and said he had asked the Ravens to be traded on March 2.
"First of all, Lamar Jackson is a fantastic player," Douglas said when asked about potential interest in Jackson. "But where we stand it would be disingenuous and operating in bad faith. So right now, we have our plan, we have our process, and we are sticking to that."
If the Jets and the Packers ultimately agree on a Rodgers trade, draft capital is expected to be part of the deal. After last week's trade of WR Elijah Moore to Cleveland, the Jets own three picks in first two rounds (No. 13, No. 42, which was obtained from Cleveland, and No. 43).
"Where I'm from every pick is important," Douglas said. "Obviously, the 13th pick is a high pick in the round, so you really have a great opportunity to bring in a strong player. Picking in the top 15, picking in the top 20, the odds of hitting on those guys usually go up."
While no formal talks are planned for this week between the Jets and the Packers, Douglas complimented Packers GM Brian Gutekunst and said they've exchanged pleasantries in Arizona.
"I've known Brian for 20-plus years and he's a fantastic person, fantastic evaluator," Douglas said. "There has just been some small talk, catching up. Nothing official, nothing planned. But it was good to see him, it was good to catch up with him."
On Sunday, Jets HC Robert Saleh talked to NFL Network's Judy Battista about how far the Jets have come in two years considering Rodgers' intent to join the Green & White. He has been one of many prominent names to be linked to the Jets this offseason.
"I think it's a credit Robert and his staff, the culture that he has created, the support that we all have been given from the Johnson family, from Christopher and Woody," Douglas said. "It's a real tribute to them."