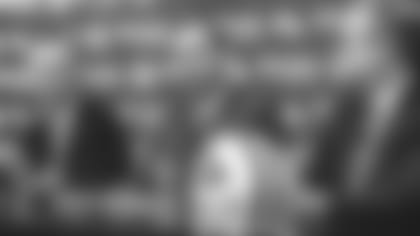 The introductory press conference is over and Adam Gase is getting settled into his new surroundings at the Atlantic Health Jets Training Center. Gase has a long to-do list, but there will be nothing more important in the short term than hiring his coaching staff.
Gase will be the Jets' signal-caller and he will be the person primarily responsible for the continued development of quarterback Sam Darnold. With Gase locked in on Darnold, he will probably elect to go without a quarterback coach.
"We're still looking into that," Gase told a media throng. "I might go coordinator and no quarterbacks coach. I think the less voices there, the better. I think there needs to be a direct line of communication with myself or if we bring in just a coordinator."
With Gase overseeing the offense, he wants his defensive coordinator to completely take charge of that side of the ball.
"I feel like I need to use my time — I'm sure that everybody's in the same boat — I probably need to spend my time with the quarterback," he told reporters during a breakout session after the news conference. "And that's why whoever we bring here on the defense really needs to do a good job of making sure he's the head coach of the defense and that's really what we're looking for."
The Jets got the guy they were looking for in Gase. Chairman and CEO Christopher Johnson has seen the NFL landscape change and he believes Gase is going to put his franchise ahead of the curve.
"Just a brilliant guy. He is coaching to where football is going in my view," Johnson said. "It's a different kind of football, it's not the Steelers in the 70s, which was great. But it's a different brand of football right now and I think Adam is going to be able to take us to a very good place."
The Jets did their due diligence in their search for a new leader and that included a conversation between Johnson and Peyton Manning. In Denver, Gase was Manning's QB coach in 2012 and his offensive coordinator in 2013-14. Over the course of those three seasons, Manning averaged 4,954 passing yards and 43 TD passes. The Broncos went 38-10 in regular season action during that time frame, earning postseason trips each year, capturing two AFC crowns in addition to one Super Bowl title.
"It was a long conversation. He talked about how Adam really worked with Peyton when he was just off his injury and how he really made the whole offense work to what he could do at every step along the way," Johnson said referencing Manning's year off in 2011 following neck surgery. "It was a process. We had a great conversation and it's great to get information from such a great source. But it just let us know what we already knew, it reinforced what we had already learned for ourselves about Adam and that was a good thing to do."
Johnson ultimately made the decision with only wins on his mind and Gase knows that's what people will remember him by.
"Really at the end of the day, it's going to be what do we do through a 16-game season," he said. "I know we're all going to try to work for the same goal. Once the players get in here, we can start building off of that."
But before the players arrive, Gase will hammer down on his staff.
"Now we're going to move on to where it counts when we start building the team and when we start playing games," he said. "That's what you are evaluated off of and that's what you are going to be judged off of."