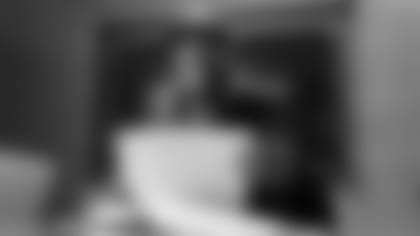 One Jets legend who was on the front lines to witness what can happen when a top running back comes to town is all aboard with the unrestricted free agency signing of former Pittsburgh superstar back Le'Veon Bell.
"It was like Christmas morning when everybody woke up the other day and saw on their texts or on social media that we got Le'Veon," said Wayne Chrebet, the Jets' Ring of Honor wideout from 1995-2005 who was visiting the team facility today. "He's a great addition. I think they've done a great job filling some of these needs. Hopefully, he can have the same kind of career coming here that Curtis had."
Curtis Martin, or course, is the Pro Football Hall of Famer and fellow Ring of Honor member whose 1998 arrival as a restricted free agent signing from the Patriots, orchestrated by Bill Parcells and Mike Tannenbaum, signaled an upsurge in the Jets fortunes. In his first seven seasons in green and white, the Jets made the playoffs four times while he was on his way to setting franchise records and climbing the NFL's all-time rushing yardage list.
"Guys like Le'Veon don't become available every day. He was the prize of free agency," Chrebet said. "Especially with a young quarterback in Sam Darnold, you want a guy that you can not only give the ball to but who can catch passes. I saw in 2017 he had the most touches in the league. They say running backs get old early, but he's had a whole year to get fresh.
"It's a power move by Mike and Adam."
And as Chrebet noted, GM Mike Maccagnan and head coach Adam Gase had more power moves to come. He loves the signing of LB C.J. Mosley for the defense and WR Jamison Crowder as another Darnold target, plus the trade with Oakland for "a big guy up front" in G Kelechi Osemele.
"How many Pro Bowls combined have come in, between Mosley, Le'Veon and the kid from the Raiders?" Chrebet said. (The answer is nine.) "They're all studs. Everybody they've brought in is going to make an impact."
All of those moves, plus more to come, plus the draft in six weeks has Chrebet, the fan favorite who gathered in the second-most receptions in franchise history, feeling bullish for the season(s) ahead.
"We have the third pick of the draft, and I think the draft is so deep that even if you move back you can still get an impact guy. There's a handful of edge rushers and that's what we need.
"I trust Mike and Adam and what they're doing. They've done great so far. I'm excited to see what they do next."