Two silly little plays. That's the secret sometimes to, say, celebrating wins over Miami, Jacksonville and Cleveland and to commiserating over losses to New England and Miami.
"Two plays are the difference in games and you've just got to find a way to make those plays," said Jets linebacker Demario Davis after today's practice at the Atlantic Health Training Center, the fall-from-ahead loss at the Dolphins in the rearview mirror and Sunday's home game against the Falcons looming on the horizon.
"Some teams, when the game is on the line, they find a way to make those plays," Davis said. "That's what the good teams do and that's what we have to be. We've shown we can be that, but we have to be that on a consistent basis."
Double-D was asked if it's literally two plays every game that he was referencing and if so, what might those two plays have been in the 31-28 crusher in South Florida. Davis declined to answer, but Josh McCown was counting his interception with 39 seconds to go as one of those plays on his personal list.
"It's a frustrating thing because you feel like for however many plays that we had except for one or two, I played the game I wanted to play," the 38-year-old signalcaller said. "But when that one happens and it happens in that moment, it's a stickler.
"But understanding the situation, how we can improve on it and the guys around me, everyone has been supportive and everyone understands, man, it's just one play, we gotta move on. We have to figure out a way to ultimately, A, to be better in that moment, but B, when you're up 14 in the fourth quarter to not fight ourselves in that moment to close out the game."
One of the things that sticks in all the Jets' craw the most is that 14-point whammy. Even with leads being fragile things in the NFL these days, only once before in franchise history did the Green & White lose leads of two touchdowns or more in back-to-back games.
The year was 1993. The Jets had started 2-1 and had leads of 21-0 and 28-14 on the Eagles in the Meadowlands. They lost the handle on that game in a 35-30 loss, then the next week opened a 17-0 second-quarter lead on the Raiders in L.A. before falling, 24-20.
As grimly historical as this past fortnight was, Davis and McCown both said the Jets relied on their resiliency to have a strong start to Falcons week — "a good day of work," said the QB, "a step in the right direction," said the LB.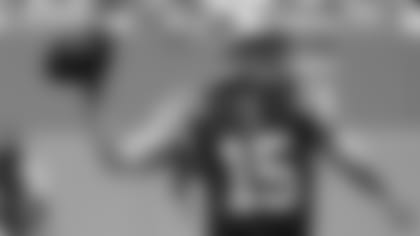 Davis even brought his teammates on both sides of the ball together after stretching and special teams drills this afternoon for some words of heartfelt thoughts.
"It was the first day back after obviously a tough loss," he said. "It's no secret that in the past two games we let two leads go. ... Everybody basically understands where we're at and what we've got to do. ... Let's just correct the little things we need to correct, stay together, and keep pushing forward."
"Everything is still in front of us and let's go out and get the next one," McCown said. "It's the same mentality we would have if we won the game. You have to come back with great juice on Wednesday, have a great practice and get ready to go, so it was a good today and we look forward to Sunday."
Jets Returned to the Practice Field on Wednesday to Begin Prep for the Falcons Game