The New York Jets will report to training camp on Wednesday on the campus of SUNY Cortland, bringing with them anticipation and excitement for a new season. Some of the players, however, are excited for another reason: the balance of experience and youth that the team possesses.
Tackle D'Brickashaw Ferguson said the mix of veteran leadership and younger players on the team is something every man on the roster can use to his advantage.
On offense, Ferguson said he's excited to see the knowledge WR Eric Decker and QB Michael Vick, two players with big-game experience, can impart to the younger players on the roster, like rookie tight end Jace Amaro or wide receivers Jalen Saunders and Shaq Evans.
"It's hard to compare year for year, but this is a nice balance," said Ferguson, who made his debut with the Jets in 2006 after being selected No. 4 overall in the NFL Draft. "I'm just happy that we have enough guys who've had success where younger players can see that and say, 'You know what, I can learn something from him,' or 'being around him or watching him, I'm sure that I can grow.'"
Ferguson, a three-time Pro Bowler, added that the mix of veterans and younger players is also a benefit to the older guys on the roster.
"There's enough competition," Ferguson said. "There's no one that can say, 'I'm here, I've been here.' There's always competition at every position. I think it's an exciting time to play this game."
Linebacker Calvin Pace, coming off a season in which he recorded a career-high 10 sacks, said the feeling around the team is similar to what he felt at the beginning of 2009, when Rex Ryan was named head coach.
"This year we're hungry like the first year that Rex came in," said Pace, who has been with the team since 2008. "The last two years have been kind of the hungriest that I've seen us since Rex has been here just in guys realizing the time is now to make moves. It's different, but it's a good different."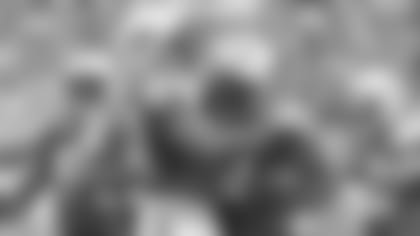 That "hungry" attitude Pace said the Jets had was evident in the final quarter of the season in which they went 3-1 to finish at 8-8.
Pace said much of the team's success had a lot to do with Ryan's ability to connect with his players, which adds to the team's desire to win.
"It's that excitement of playing for Rex and knowing what he brings with his personality," said Pace, who is one of the few players on the roster before Ryan became head coach. "You come in, you're tired, and he says something funny. Then it's kind of 'Let's go to work.' "
Pace, Ferguson and the Jets will get to work this week in preparation for the annual Green & White practice at Cortland on Aug. 2 and our first preseason game against the Indianapolis Colts on Aug. 7.
---