Offensive POD: Rookie QB Christian Hackenberg saw an increased workload today, getting some reps against the first defense. The second-round pick displayed his vertical accuracy early in a team drill, hitting WR Jeremy Ross in stride down the sideline. The second-round pick, who started 38 games at Penn State and is the only 8,000-yard passer in school history, did not play in the Jets' preseason opener.
Defensive POD: Late in practice, veteran LB Erin Henderson covered a lot of ground and intercepted a Ryan Fitzpatrick pass close to the boundary. Henderson is atop the depth chart at the "Mo" position, lining up next to David Harris with the first team.
Wilkerson Participates: Veteran DL Muhammad Wilkerson, who broke his right fibula in last season's season finale against the Bills, returned to team drills Tuesday. Head coach Todd Bowles said the veteran ran around fine and he has a ways to go before he gets back into football shape.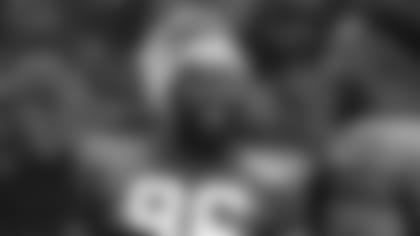 Marshall Excused: Brandon Marshall missed practice with an excused absence. The Jets' star wideout could miss another day, but Bowles said he will play against Washington. Kenbrell Thompkins took his position on the outside.
Forté Back in Pads:While RB Matt Forte wore pads today and the veteran took part in individuals drills, he watched team drills. Forté told the media that he feels good, he'll be back on the field soon and he will be available for Week 1 action when the Cincinnati Bengals come to town.
Mix & Match: Different lineup combinations were the norm as the Jets continue to move players around. At OLB, Josh Martin and Freddie Bishop both received first team reps. Rookie CB Juston Burris also got some run on the outside. C Nick Mangold was given some rest, so Wesley Johnson, Dakota Dozier and Kyle Friend shared action at center.
Khiry in Red:RB Khiry Robinson got a few carries while donning a red non-contact pinney over his jersey. Robinson came off the physically unable to perform list on August, 8.
Notables: Hybrid Quincy Enunwa had a solid afternoon, catching a number of balls and producing YAC… Both RB Bilal Powell and FB Tommy Bohanon had long gains on the ground… Lorenzo Mauldin and Josh Martin had would-be sacks of Fitzpatrick… Fitzpatrick and Bryce Petty threw red zone scores to Thompkins and Ross respectively.
Did Not Practice: RBs Romar Morris (shoulder) & Dominique Williams (concussion), S Doug Middleton, OLB Trevor Reilly (leg) and TE Wes Saxton (leg),
PUP: RT Breno Giacomini (back) & WR Devin Smith (leg).