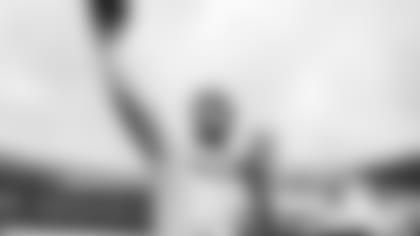 Prior to the start of the 2018 regular season, CBS analyst Tony Romo had high praise for Jets quarterback Sam Darnold. And at the midway point of Darnold's rookie year, Romo believes the 21-year-old is right where he should be.
"I think you're going to see just a normal development of all quarterbacks," said Romo, who was a four-time Pro Bowler with the Dallas Cowboys. "Some guys come in and have better stats or have better seasons in their rookie year, but Sam is going to be outstanding. I still think his ceiling is going to be very high and I think you're going to see a monster leap even as the end of this season comes in, but really when next year starts.
"That second year for players that I think are going to be at the level that I think he'll be at one day, they make a big leap. The game will get very slow for him through OTAs and training camp. I think you just enjoy it right now, the ups and downs and him learning every play. You'll see him take off pretty soon here."
Through eight weeks, the 21-year-old Darnold has completed 55.2% of his passes and thrown for 1,705 yards with 11 touchdowns and 10 interceptions. The 6'3", 225-pounder, who has displayed a veteran presence and approach to the game, is still learning the nuances of the NFL.
"The key for him will be nothing more than learning football," Romo said. "Studying after the game as much as before and your ability to go back and think about why you did that, why your brain thought this, why in that moment you decided to do this and always evaluate your thinking. You'll eventually be teaching yourself how to think as much as you are about where to go with the football."
Dating back to his three-year collegiate career at USC, Darnold has been lauded for his mental makeup and resolve. But according to Romo, the rookie's spatial awareness between the white lines is what makes him special.
"The really great ones get through progressions really quickly. They can sense leverage and spatial awareness where you can get off a receiver before they're even at the top of their route because you can already see what's going to happen," he said. "That way you get to the third read in one second where someone else is waiting.
"He's already moving on to the second or third guy and that's why I think his future is really bright. When you have it, that franchise is going to be okay."