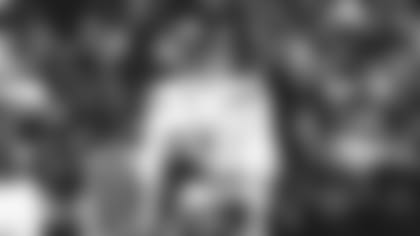 After reviewing tape of Sunday's loss at Buffalo and meeting with his assistants, Jets head coach Robert Saleh named Tim Boyle as the starting quarterback for the NFL's first Black Friday game, against the Miami Dolphins at MetLife Stadium.
Boyle replaced Zach Wilson late in the third quarter during Sunday's 32-6 loss to their AFC East rival Bills. Wilson completed 7-of-15 passes for 81 yards and the offense's first TD (on a short pass to RB Breece Hall) since the first quarter of the OT win over the Giants on Oct. 29.
"We just want to give him an opportunity," Saleh said during his online press conference. "He a different style of quarterback. It's really to give him an opportunity to see if we can do something with the offense."
On Friday, Saleh said that the Jets would dress all three of the quarterbacks on the roster -- Boyle as the starter, Trevor Siemian as his backup and Zach Wilson as the third-stringer.
In the past several weeks, as the Jets' offense has struggled, Saleh was peppered with questions about his plans at quarterback. He deflected those questions, saying that it's a 53-man game and he would not "point fingers."
Asked what had changed his mind, Saleh said: "Last week, as I said, across the board we made a lot of changes. We tried to go younger, addressing running back [dropping Michael Carter and installing rookie Israel Abanikanda], wide receiver [Xavier Gipson and Jason Brownlee] and at tight end [Jeremy Ruckert]. As for Zach, it's not all him, but there are things he needs to be better at. It's another situation where we give another guy an opportunity to see if something can change."
Boyle grew up in Connecticut and was signed by the Jets in free agency in April. He spent a couple of seasons as Aaron Rodgers' backup with the Green Bay Packers, and had his most productive season as a professional with the Lions in 2021. In four games (three starts), Boyle was 61 of 94 (64.9%), 526 yards and 3 TDs. He was with the Bears last season.
After the loss at Buffalo, the Jets (4-6) have lost three-straight games after cobbling together and three-game winning streak ... that came after a three-game losing streak.
"We're 4-6, a little behind the eight ball, but not out it [of the playoff race]," Saleh said. "We had a three-game losing streak before we bounced back, The NFL is a roller coaster, right? I think our group has a lot of confidence. We're young on offense, we've gotten young quickly. On defense, we're just continuing to play to the standard we need to play. The overarching message is that you have to have fun to go out there. Embrace being an NFL player, fulfilling our dreams when we were little. There's still a lot of juice and excitement."
Wilson had started the season as the backup to the veteran four-time NFL MVP Aaron Rodgers. But that changed in the blink of an eye when Rodgers went down with a torn Achilles tendon on his fourth play from scrimmage, thrusting Wilson back into the starting job. Regardless of his performance, he played behind an offensive line that lost C Connor McGovern, T Duane Brown and T Alijah Vera-Tucker to injuries. In all, Jets quarterbacks have had to deal with seven different OL combinations, five in the past five games. To add to the lack of continuity, RT Mekhi Becton left Sunday's game with an ankle injury. That brought onto the field rookie Carter Warren, in his first appearance this season, playing with another rookie -- C Joe Tippmann.
On Monday, TE Tyler Conklin voiced his support for Boyle and complimented him on instantly settling in amid a difficult situation.
"The main thing that stuck out was his confidence in the huddle," Conklin said. "He came in, commanded the huddle and was really decisive getting the ball out of his hands. He got it out quick and stuck it out. In a small sample I'd say he has confidence about him, he knows the offense."
Asked Sunday what to expect from him, Boyle said: "It's really just positivity. I think that football is that interesting momentum game where words on the sideline, or words in the huddle, it's not going to cultivate much. It's really just about playing together and making sure that communication is strong and there's no heroic efforts out there. Just making sure we run the offense and I think Coach [Nathaniel] Hackett did a good job making sure we had a good game plan going this week. We just didn't execute it."
Late in Monday's press conference Saleh was asked to comment on reports that speculated about the return of Rodgers, perhaps him beginning to practice in early December and targeting a return to the field against Washington on Dec. 24.
"I'll be honest, I'm talking to Aaron all the time, about life, football all that good stuff," Saleh said. "But until he's cleared by doctors it's a moot point. I love that he's working hard, it shows his type of character. He relentlessly trying to get back, he does he have personal goals and an eye on certain weeks, sure. But it's all a moot point until he's cleared by docs."