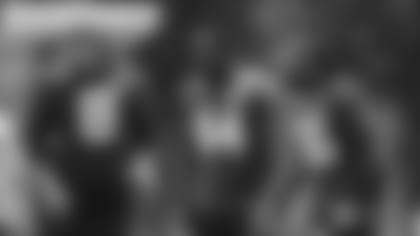 The Jets traded for veteran quarterback Aaron Rodgers with the intent of supercharging the offense. But as training camp winds down and the team prepares for the final preseason game, he has immersed himself in his role as the leader of the offense and a kind of guru -- a coach on the field -- aiding the defense.
"He's one of the best quarterbacks, a gold jacket [Hall of Fame] guy," linebacker Quincy Williams said on Wednesday. "Going against him in practice has been helping us with our disguises. Later on, he tells us what he's looking at and what we can work on. It's very huge."
Head coach Robert Saleh and defensive coordinator Jeff Ulbrich have each acknowledged Rodgers' impact on how the defense operates.
"I've never seen it in my 20-plus years in this league," Ulbrich said last week. "I've never seen a person that is so inclusive, that shares so much. That is constantly trying to bring everybody along with him. He is very unique."
He added: "It's huge. For a coach to say, 'We need to be on the same page,' for a coach to say, 'We need to do all the extra stuff to get on the same page to become the team we want to become,' is one thing and that's powerful, but it's way more powerful when that comes from a player, and a player of his stature, and a player that's had so much success in this league, so the push that we're getting internally from a player's perspective, is imperative to get where we need to get to."
Michael Carter II is one of the younger guys on defense who has been on Rodgers' mind since the Jets went to Lambeau Field last season and defeated the Packers, 27-10. Rodgers filed it away and recently said that the Packers were intent on exploiting the slot corner but were unsuccessful.
"I remember last year when we [the Packers] played the Jets, we felt like we wanted to get after M.C.," Rodgers said in June. "After the game, I think everybody was like, 'He's a pretty damn good player.' "
M.C. II, who is about to start his third season with the Jets after being drafted out of Duke, played in all 17 games last season, had a pair of interceptions and logged 63 total tackles and 3 QB hits. He has quietly emerged as one of the steadiest players in a defensive backfield that includes Sauce Gardner and D.J. Reed.
On Wednesday, Carter said that "I'm ready to go," adding that "I feel like I'm at the end of camp, I'm prepared well."
And like Williams, Carter said that having the opportunity to face Rodgers every day in training camp has sharpened the play and awareness of every player on defense.
"He forces us to communicate at a high level, you've got to be on your details, make sure everyone is at the right spot, if we're off he will exploit it," Carter II said. "He's going to see it, he sees all that stuff. When you trick him, the dialogue is good. He wants to know what you did, what you see. It makes us play at a high level."
He added that he's looking forward to playing Saturday against the Giants: "I've been itching to really get some reps and get back in the flow of things. As a defense, it's been a good job in practice but I really need to see it Sunday, I mean Saturday. Get in flow of a real gameday. I'm looking forward to that."