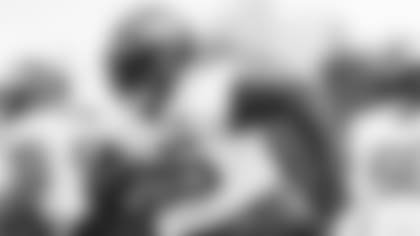 There are things that only one brother knows about another brother. Then there are the brothers Williams of the Jets.
On Monday, Quinnen Williams, who is entering his third season with the Green & White, was asked about the play of his older brother Quincy, who the Jets plucked off the waiver wire after he was cut by Jacksonville last week.
Asked for a scouting report of Quincy, Quinnen said: "Man, today was his first practice. I'm going to have to watch the film."
The Williams brothers, Quinnen, 23, the defensive lineman, Quincy, 25, a linebacker, are among a small group of siblings with connections to current Jets -- C.J. Mosley (brother Jamey, who was with the team in 2019) and Corey Davis (brother Titus was with the team in 2015 and 2016).
With the Jets in the final week of preparation for their 2021 NFL season opener at Carolina on Sunday, Quinnen said that he and his brother are hungry for one thing above all else -- wins.
"I didn't find out [about the Jets' claim] until I was walking on to field for practice," Quinnen said. "It's super-exciting for my family, my brothers, my sister. It's amazing to have a great guy like him here. He can help the team with his explosiveness, his speed, his knowledge and his football IQ.
"We've never been on the same team [beyond Wenonah HS in Alabama]. We've both had a dream of being in the NFL, but definitely never thought about being on the same team. We've always played against each other. When he got here, we looked at each other and said we have to get down to business."
"I mean, [last season] we were 2-14 and the Jags were what? 0-16, 1-15? We both want to win," Quinnen told reporters. "We care about winning football games. That's all that matters to us. He is not just Q's brother. We want to win. Whether he's my brother or not, we play football games to win, not to lose. He needs to come and put best foot forward every day, and we need to hold each other accountable."
Quincy, too, is entering his third season in the NFL, the first two with Jacksonville. Last season, the former third-round draft pick played in seven games with 11 tackles. He joins a linebackers' room that got a bit thin when Jarrad Davis, signed in free agency, went down with an ankle injury that will keep him on the sideline until at least Week 6. That left veteran C.J. Mosley as the leader in the room, backstopped by Blake Cashman, and a couple of rookies -- Jamien Sherwood and Hamsah Nasirildeen -- who played safety in college.
"He's got a tremendous amount of length for his size and he's extremely fast and violent," head coach Robert Saleh said about Quincy. "To get him back into this system, he's been injured in his first couple of years with little minor stuff, but to get him in this system where we feel like he belongs, we're excited about the possibility and the growth we can see out of him."
Quinnen has returned to practice after missing OTAs, minicamp and three preseason games because of a foot injury. He and Saleh are looking forward to getting him back into action against the Panthers.
"I feel great and I feel ready," Quinnen said. "I was doing all I could so I'd be ready to perform. I feel great about where I am right now and being back on the field."
While he has welcomed his brother to the team, Quinnen will get to chase a former "brother" in Carolina QB Sam Darnold, who the Jets traded to the Panthers in the offseason.
"He looks great, he was a great quarterback here," Quinnen said. "I've watched a lot of film on him and the O-line of Carolina and a lot of things they do. It's going to be fun against Carolina. Playing a game with fans is among the biggest things I've missed."
All around the NFL, players are quick to refer to their teammates, even their opponents, as "brothers" in a fast and physical sport. Now with Quinnen and Quincy Williams in the same colors, what was once a cliché now has real meaning.
See the Best Images from the First Practice of Panthers Game Week Held on Labor Day