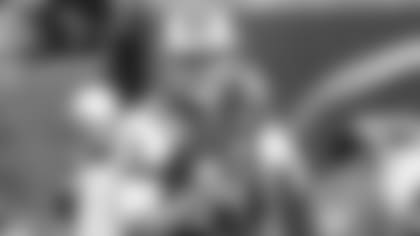 Close to 50 years ago along the shores of Lake Erie, the Jets made history with their Sep. 21, 1970 contest against the Browns being the first ever installment of Monday Night Football. And almost a half of century later along the shores of Lake Michigan, the Jets will make history once again on Monday Night Football as Sam Darnold will become the youngest opening day starter since the AFL-NFL merger in 1970 when the Green & White face the Lions in Detroit.
"Sam will be starting Monday night," head coach Todd Bowles told reporters on Labor Day.
HE GIVES US A VERY GOOD CHANCE TO WIN
Darnold played in three preseason games for the Jets while making two starts and completed 64% (29 of 45) of his throws for 244 yards with 2 TDs and 1 INT. He answered the challenge provided by veterans Josh McCown, who had a career season while starting 13 games for the Jets in 2017, and Teddy Bridgewater, who connected on 73.7 percent of his passes this summer before being dealt to the New Orleans Saints on August 29th.
"It was close obviously," Bowles said of the decision. "Sam had a good preseason. We weren't holding him back, but we weren't rushing him at the same time. He'll have some things to learn, but his poise in the pocket, the way he grasped the offense coming in right away and the guys were around him and absorbed him playing football — he gives us a very good chance to win."
After Darnold declared for the NFL Draft with one year of eligibility remaining at Southern California, many pundits believed the 6'3", 225-pounder would be the No. 1 overall selection in April. The Jets re-signed McCown and added Bridgewater in free agency before striking a deal with the Indianapolis Colts on St. Patrick's Day, sending a trio of second-round picks in order to move up from No. 6 to No. 3 overall. And then when Oklahoma QB Baker Mayfield and Penn State RB Saquon Barkley went to the Browns and Giants respectively, the Jets ran up to get their card in with the selection of Darnold.
"I think he kind of bounces back quick and plays faster that I have seen some other young quarterbacks play," said Maccagnan after he reached a deal with Darnold's reps. "He definitely has accuracy. He throws a very good ball. We thought he had a good arm coming in. Obviously that has been shown, but I think he has a lot of the pieces to potentially develop into a very good player."
OWNED THE PLAYBOOK
Despite missing three training camp practices, Darnold came out firing and he never looked back. He absorbed Jeremy Bates' West Coast offense in the spring and then went to work on it throughout the summer, impressing the Jets with his ability to grasp the information in the classroom, relay the play call to his teammates in the huddle, efficiently work from under center and then read defenses and quickly go through his progressions.
"I think number one is just how easy the game is for him, both mentally and physically," said Bates, who doubles as the Jets' play-caller and quarterbacks coach. "We haven't scaled back offensively. We were giving Sam the same amount of information and same plays as we were giving Josh and Teddy, NFL vets. He's able to take the classroom knowledge and all the stuff he's studied in the classroom and take it right to the field and execute it. We're throwing a lot of football at him and he's been able to handle it. That's hard to tell in college. In college he was looking at the signs on the sidelines, so you just never know. He's owned the playbook, so that's probably the most impressive thing for him."
There were numerous moments throughout August that signaled Darnold was ready for prime time. In the preseason opener vs. the Falcons, he used his feet to avoid pressure and had the presence of mind to not cross the line of scrimmage before firing a touchdown pass to veteran wide receiver Charles Johnson. Against the Giants, he checked out of a play and converted a first down with a pass to tight end Nate Sterling. And in the same game, he used his legs to convert a third-and-13 with a nifty 14-yard scamper.
"If I do get the start, I'll be very confident," Darnold said moments before Bowles announced his decision. "I'll be very confident in my teammates. We've been practicing well together in the time we've spent, even off the field. I think we have some really good chemistry in this locker room and we're ready to showcase that Monday night."
SAM HAS A SPECIAL GIFT
Darnold did so many things well that he caught the attention of the most iconic figure in franchise history. Namath, who started that Monday night game in 1970 less than two years after leading the AFL's Jets to a momentous upset of the NFL's Baltimore Colts in Super Bowl III, met the red-headed passer before the annual MetLife Bowl.
"I look at him as from a quarterback's eyes and I see the way he goes through his progressions," Namath said. "He knows where to go. I see him buy time with his feet. Between the ears, you've got to know somebody. You have to live with him so to speak as a football player, as a coach, as a player. Sam has a special gift going on inside his head. He can analyze things, learn things quickly and it's exciting to see the potential he has."
Sam Darnold is taking his show on the road. He will be 21 years and 97 days old on Sept. 10 when the Jets visit the Lions in Detroit. He is about to get his feet wet in a big way with three games in 11 days and he will be connected with Namath in terms of making Monday Night Football history. Jets fans hope Darnold will eventually become the first Jets quarterback since Namath to lead the franchise to a world title.
"He conducts himself beautifully," said Broadway Joe. "I've watched him on camera, I've watched him on the field and I've listened to Coach Bowles and Bates talk about him. He knows what he's doing. He's had some good input even before he got here to the big city. We're all very excited about his future."