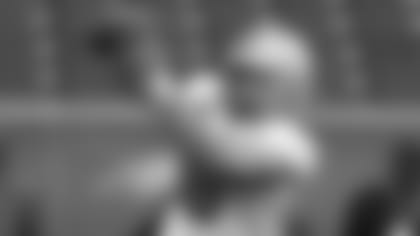 From being a Jets fan growing up to becoming a member of the team, former Ohio State TE Jeremy Ruckert's dream became his reality when general manager Joe Douglas and the Green & White selected Ruckert in the third round.
"It was deafening once I put the hat on and once [my parents] found out who was on the other end of that call," Ruckert told reporters after he was drafted. "They were just so excited. I mean, it's hard to say and it's hard to believe, but this means just as much to them as it does for me. And that means a lot to me in general, just because all the support that they've given me throughout my life, doing everything they could to help me be where I am today. I'm so grateful for that and I'm so grateful to have such a close family that's going to continue to support me along this journey."
Ruckert, who grew up in Lindenhurst playing soccer and football, was on Long Island waiting for his name to be called. Like many players, coaches and employees before him, he'll relocate from the Island to New Jersey -- he was 8 years old when the team moved from Weeb Ewbank Hall at Hofstra in Hempstead to the the Atlantic Health Jets Training Center in Florham Park.
Ruckert's prowess on the field at Ohio State was as a run blocker. He totaled 54 catches, 615 yards and 12 TDs, having his best statistical year as a senior with 26 receptions, 309 yards and 2 TDs. He had 3 targets per game last season, but he made an impression on the Jets' coaching staff in Mobile as a pass catcher.
"When he was given opportunities to make plays on the ball, he made plays," Jets TEs coach Ron Middleton said at the Senior Bowl. "Don't know the extent of his route tree, how many routes he's run, but he had no issue catching the ball when it was thrown to him. He did not pass up a chance to knock the hell out of somebody. He likes contact and once he gets the ball in his hands, he still likes contact. He moves well, he has a burst after the catch. There's a lot of positive about that kid.
"From a coach standpoint, there's nothing not to like. There's some technique issues you have to incorporate with him and get him better, but he's a fine prospect."
HC Robert Saleh described Ruckert's blocking style as a bulldog, which is coincidentally Ruckert's high school mascot.
"I take pride in anything I do and anything I do, I do with full speed," Ruckert said. "Our strength coach at Ohio State told us some slowed down and some speed up into contact and that really hit home to me. So ever since that moment, I wanted be that dominant player in the run game. I've got a long way to go, but as far as effort, as far as the mentality, you're going to get my best every single play no matter what my job asks for.
"I can't wait to bring that into the culture there. I think the culture, like Coach Saleh said in there, I think that the little time that I've been around there you could tell the culture is spreading very well. I felt it as soon as I was there for just a couple days I was there, I felt it. I got juiced up and I'm just so excited."