Twelve season ticket holders were the stars of the show at the Atlantic Health Jets Training Center on Tuesday. They were the winners of our 2013 Early Renewal Sweepstakes and their reward was to bring a guest with them to our facility and enjoy a luncheon in our business café with two Jets coaches.
One of the day's surprises was that a rare tour of the building was included. Another was that the "coaches" actually turned out to be head coach Rex Ryan and general manager John Idzik, who greeted them after the tour and chatted with them for a half-hour before lunch.
"I can't tell you how many times we hear, 'I go back to Shea,' 'I go back to the Hofstra days.' That's when I was here my first time around," said Idzik, who got his first Jets exposure in the late Seventies when his father was our offensive coordinator. "It's really refreshing to hear that we have that type of passion and loyalty. We look for players and staff members in the building who play like Jets, act like Jets. That's the type of passion and pride we're looking for."
"I was one of those guys that was at Shea Stadium years and years ago," Ryan told the sweepstake winners of his days in the late Sixties, when his dad, Buddy, coached the Super Bowl Jets' defensive line. "When John and I look at it, this was our team growing up. Who would've thought at the time that we'd get the opportunity we have in front of us. Believe me, this fan base means the world to us."
Meeting the GM and coach was a highlight for many of the guests.
"This is good," said Frank Terista, one of the sweeps winners from Fanwood, NJ. "It gives us the chance to meet the coach and the general manager. This is unique."
Mike Kloepfer, Frank's guest, agreed that it was great to meet Rex and John, "put a face with their names," but he was equally impressed with the tour of the fieldhouse and the rest of ou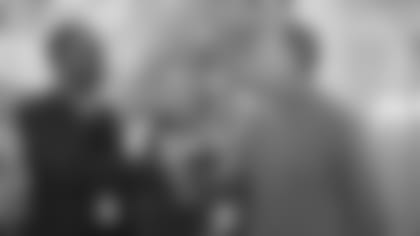 r facility, still considered to be state of the art in NFL training centers.
"I've been here for the preseason practices outside, but it's really nice to see the interior," Kloepfer said. "Back at Hofstra, we used to line up after practice and the players would all shake your hand and sign autographs. I had 20 Pat Leahy autographs. It's very different now, so to have something like this, you can tell these guys have a history."
History was a big theme as the sweeps winners shared their stories of becoming Green & White fans and Jets season ticket holders over the years.
Robert Bennett, from East Brunswick, NJ, and his son, Robert, from nearby Old Bridge, for example, embodied what Idzik called the "transgenerational" quality of Jets fans.
"I had a friend who had season tickets from when the Jets first came to the Meadowlands," the father said. "He always used to take me to games, and then when he had tickets left over and he couldn't go, I wound up bringing my son when he got old enough. And it turned out that he enjoyed it so much that he went and got season tickets."
Robert the son remembered one of his first games at the old Meadowlands stadium was as an 8- or 9-year-old kid watching Wesley Walker catch all those passes from Ken O'Brien in the heartstopping 51-45 win over the Dolphins in 1986.
"I think I'm more of a fan because of the fact that my dad took me when I was a kid. It was something that was ingrained in me at an early age."
Now the son has the season tickets and takes his dad to games. But ticket "trouble" lies ahead because the son and his wife have just had a son of their own, also named Robert. Said the proud grandfather, "He's going to take that second seat real quick."
Erik Ruszkowski of Dumont, NJ, came to his Jets tickets by a different route.
"I'm from Philadelphia before I relocated up here," said Erik, who brought John Cauda of Demarest along for the day. "Being from an NFC East location, you can't root for the Giants. When I came up, good things were happening with the Jets, they had the new stadium and there were a lot of good seat opportunities. I figured, let's make the Jets more of a thing. They've been very good to us, and not just today."
One example of that is our desire to reward our season ticket holders for their early renewals this season. That led to the sweepstakes, with 2,013 winners receiving one of 37 different prizes. Those prizes have included autographed items from current Jets players, Jets merchandise, a pair of premium club seats to all of our clubs in the stadium — including the exclusive Green Room — and one-of-a-kind experiential prizes such as **traveling on the team's charter flight to the New England game, which we wrote about back in September**.
And then there was the luncheon. Three of the 15 prizewinners couldn't make the event, so they will be invited to a lunch with two players that will be scheduled for the 2014 offseason.
Tuesday's gathering brought to Florham Park, NJ, among others, the Noces, twin brothers from Westchester County, NY.
"We both have season ticket accounts," said Steven, with Ernesto quickly adding, "I just happen to be the lucky one" who won the luncheon invitation.
Ernesto, a lifelong Jets fan, said he and his brother felt that purchasing season tickets "was a great opportunity for us to spend more time together. I have three boys, so we bring them to the games and they've been able to get on the field before games. The Jets have been doing a great job with that."
"We appreciate the opportunities that have been afforded to us," Steven said. "We know it's a first-class organization."
It's all just our way of saying thank you, Steven and Ernesto and all the rest of you Jets season ticket holders who renewed early this year.