The Jets quietly signed veteran cornerback Donald Strickland on March 25. After three years in San Francisco, Strickland chose the Green & White over the 49ers, Tennessee Titans and Denver Broncos.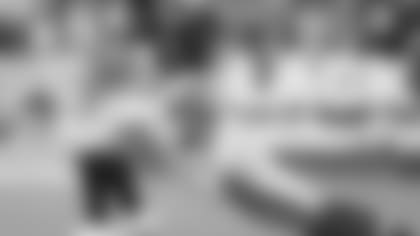 "I feel that there is the potential for this defense to be great and I want to be part of that," Strickland told me. "There is also familiarity with the system already and this was just a new opportunity to grow as a player."
The 5'10", 185-pound Strickland, who says the nickel role is "kind of my forte," is a versatile defensive back. He's a seasoned veteran of 28 who has appeared in 49 games and totaled 147 tackles, two INTs and 15 PDs in seven NFL seasons. He is comfortable on the outside and he actually also played some safety at the start of his career with the Colts.
For the majority of his tenure with the Niners, Strickland's head coach was Mike Nolan. Jets head coach Rex Ryan served as defensive line coach in Baltimore when Nolan was the Ravens coordinator from 2002–04.
"Coach Nolan came from Baltimore, so it is a very similar system that Rex Ryan runs. I'm already familiar with the technology and the basic coverages that we run, so it wasn't a matter of learning a whole new system," Strickland said. "I knew it will be an easy transition for me if I came out here."
A certain legal presence also made the move from West Coast to East Coast more appealing. Strickland has a strong bond with a local lawyer.
"My girlfriend is from New York and she was just sworn in as an attorney in New York," he said. "This gives me an opportunity to come in and spend time with her family a little bit."
After two-plus seasons with the Colts, Strickland found a temporary home in Philadelphia in 2005. Coincidentally, the Eagles signed him only after Lito Sheppard went down with an ankle injury. Those two will again be teammates this season in a revamped Jets secondary.
"I played with Lito before in Philly, so there's that chemistry between us already. [Darrelle] Revis is an excellent corner, a Pro Bowler," he said. "We have some nice safeties and I feel like I can insert myself into the package and help them."
While we don't have a list of names for you at the moment, the Jets are in the midst of hosting draft prospects at their Atlantic Health Training Facility. Each NFL team is permitted to bring in 30 players to conduct physical examinations and/or get a better feel for prospects. Teams are not allowed to work players out during these visits.
If a player attended school within the metro area of the Jets' Florham Park location, for example at Rutgers University in New Brunswick, the Jets could opt to work a player out here.
Questions for the Professor
We've booked ESPN senior writer John Clayton for a guest spot later this week on "The Drive." Obviously, Randy and I will talk with "The Professor" about the upcoming draft and some of the Jets' needs. But please send us in some of your questions and we'll try to get a few of them on the air for John to answer.