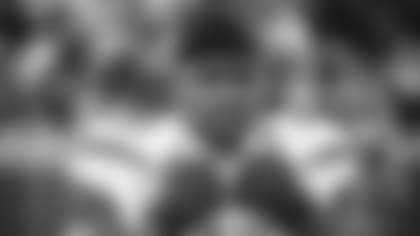 Steve McLendon is heading into his eleventh season in the NFL and fifth season with the Jets, making him the most experienced veteran on the roster. He's been with just two teams his entire career and has endured many different offseasons, but never one quite like this.
"I love to train, and I love to work, but the meetings have been very, very different for me," said McLendon of the Jets' virtual offseason program. "I'm not used to being on my phone as much in a classroom setting. But we have to do what we have to do right now. We understand that it's a crazy time, but we still have to keep business going and we still have to keep making necessary corrections from last year to get better."
Due to restrictions caused by the COVID-19 pandemic, all 32 teams in the NFL moved to a virtual-based offseason program starting in late April, consisting of positional meetings featuring film review via video conference calls. Despite the unusual conditions, however, McLendon believes the Green and White have an opportunity to be an improved team in 2020.
"We will be a better team, we are a better team, and the only way we can become that better team is through hard work and the same dedication," he said. "We need to continue our learning and continue to learn about the game."
He added: "Because I believe in my team and I'll always believe in them. I know the type of work that we will continue to put in. I've been talking to a lot of the guys and we've been communicating this whole offseason. We've been doing workouts, truck pulls and stuff like that just to push each other. This is something that's different from the past offseason. We continue to push each other when we're not together, so I can imagine what it will be like when we are together."
Last year, the 6'3", 310-pound defensive lineman started in 16 games and recorded 35 tackles and 2.5 sacks. He took his dedication to a new level this offseason after opening up his own gym in Georgia and has utilized most of the quarantine time to work on his craft at his new facility. A motivator and mentor, McLendon hopes to inspire and assist the newest members of the Jets in becoming more driven professionals.
"I'm just dedicated to the game," McLendon said. "I live by a quote, and it's, 'Live a focus-driven life.' Every single year I continue to live by that. Focus-driven life is an acronym and it's one of the biggest things in my gym right now. If you focus on being driven, driven becomes your life. That's how I look at it. I continue to have that same focus. For me, I have a different mindset each year to continue to get better, to continue to grow, to continue to learn, to continue to just be a better version of myself to help this team and head in the right direction."