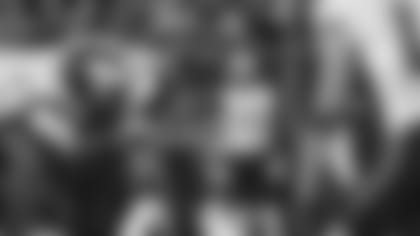 The Jets were unable to make it back-to-back victories on Monday night. Let's dive into the snap count and playing time distribution for the Patriots game.
OFFENSE
The Jets ran 61 plays on offense against New England, which was one shy of the 62 they had against Dallas the previous week and their fourth highest total of the season. Nineteen players saw time in the offense for the Green and White, which is tied for second most on the year (21 vs. Dallas). Four members of the unit were on field for every play (61 total): Sam Darnold, Alex Lewis, Brandon Shell and Chuma Edoga. Starting right guard Brian Winters had been the last remaining player on offense to be on field for 100 percent of the team's snaps, but that streak ended last night when Winters came to the sideline for three plays (58/61, 95%). Both Ryan Kalil (26/61, 43%) and Jonotthan Harrison (38/61, 62%) saw time at center. Tom Compton was also in for three plays (5%).
Monday night marked Sam Darnold's 16th career start as a pro. The second-year QB had a tough night at the office, completing just 11-of-32 passes for 86 yards and four interceptions.
Le'Veon Bell registered a season-high in rushing Monday night, galloping for 70 yards on 15 carries (4.7 avg), while playing all but four snaps (93%). Ty Montgomery was in on seven plays (11%), while Bilal Powell saw action on four (7%).
The Jets had five wide receivers see action in the game. Robby Anderson once again led the group with 56 snaps (92%). Jamison Crowder was next up with 47 plays (77%) and led the team with four catches. Demaryius Thomas hauled in three grabs for 42 yards (44/61, 72%) against his former team. Vyncint Smith took part in 16 plays (26%), while Braxton Berrios (10/61, 16%) also saw time with the receiving core.
With Chris Herndon still sidelined by a hamstring injury, Ryan Griffin once again led all tight ends in playing time (51/61, 84%). Griffin has been on the field for 84% of the snaps in every game this season. Trevon Wesco (7 plays, 11%) and Daniel Brown (3 plays, 5%) contributed, as well.
DEFENSE
The Jets defense was on field for 82 plays against the Patriots, equaling the previous high set last week against the Cowboys. Only one member of the unit played every snap and that was safety Jamal Adams, who registered five tackles including one for loss. Three other members of the secondary were close behind, playing 78 of 82 snaps (95%): Darryl Roberts, Trumaine Johnson and Marcus Maye. Roberts tied for the team lead in tackles with eight, while Maye contributed three stops. Johnson added four tackles and also recorded his first interception of the season. Brian Poole was in for 58 of 82 snaps (71%) and notched six tackles, including one for loss. While Nate Hairston was back in the lineup after a one-game absence, seeing action on five plays (6%).
Six defensive lineman were again active on Monday night. The group played without Henry Anderson, who missed his second-straight game with an injured shoulder. Rookie Kyle Phillips was rewarded for his strong play of late, logging a unit-best 53 snaps (65%) while adding seven tackles. Leonard Williams was in on 62% of the snaps (51/82) picking up a hit on the quarterback and a tackle for loss. Quinnen Williams and Steve McLendon were both in on 41 snaps (50%). Second-year pro Foley Fatukasi played 32 snaps (39%) and picked up three tackles (one for loss). Jordan Willis (23 snaps, 28%) rounded out the playing time for the defensive line.
For the second-straight game, Blake Cashman paced the linebackers in playing time with 74 snaps (90%) while collecting eight tackles and a hit on the quarterback. C.J. Mosley played 68 snaps (83%) and recorded three tackles in his return to the lineup after missing the last four games with a groin injury. Next up was Jordan Jenkins (59/82, 72%), who picked up three tackles and a hit on Tom Brady. Tarell Basham (43 snaps, 52%) and Brandon Copeland (31 snaps, 38%) also received quite a few reps. Copeland, playing in only his second game, had seven tackles (one for loss). Harvey Langi (7 plays, 9%) also saw action.
SPECIAL TEAMS
On special teams, the unit was once again missing valuable member Trent Cannon due to injury. Brandon Copleand led the way with 26 snaps while Matthias Farley was next up with 22. Mainstay Rontez Miles was close behind with 21, while Harvey Langi chipped in with 17. Ty Montgomery handled kick return duties for Cannon, averaging 22.3 yards on three returns. Lachlan Edwards punted five times, averaging 46.2 yards per punt, including a 63-yarder.