Every Thursday and Saturday in New York City's Meatpacking District, Jets CB Buster Skrine transitions into a fitness instructor at a boutique fitness studio called Kore. It is there, before No. 41 puts his students through 40 minutes of high intensity interval training (HIIT), that he quickly he explains he is raising money for Path Mentorship in order to create avenues of support for children and single mothers in need.
"'I appreciate everybody coming out. My name is Buster Skrine.' And then I tell what the cause is. I never say I'm Buster from the Jets, but I do tell them I play football," he said of his introduction. "More importantly, it's about the families. There's so much going on out there that if people see it more often, maybe they would do something about it. Just being able to put it in their ears, doing it for a good cause and you're legitimately helping somebody, that's what keeps me going."
And then the 5'9", 185-pound Skrine, one of the most sculpted humans you will ever see at 2.7% body fat, gets them going. His four rounds consist of a dynamic workout, kettlebells, plyometric work and core.
"If you've ever seen a ninja, they don't pick up weights, but they move better than anybody else," he said. "They jump higher than everybody and have the full package without touching a weight. My workout is kind of like the ninja theory. You're going to feel great afterwards because you're becoming one with your body and not trying to be a meathead."
Always a fitness fanatic, Buster started Skrine Pro Speed after he was selected by the Cleveland Browns in the fifth round of the 2011 NFL Draft. Then after signing a deal with the Jets in 2015, the Decatur, GA native started to visit the Atlanta Children's Shelter. Skrine couldn't escape the vision of abused single mothers and homeless children.
"I said I had to find a way to help them out," he said. "We did some things for them, but it was all out of pocket. So I decided to start Path Mentorship."
It began with a trip to the zoo and a barbeque, but Skrine wanted to do more. So he donated cars to single mothers and then he came up to New York and donated Christmas toys for children at the Boys and Girls Clubs in Hoboken, Jersey City, Newark and the Bronx. Now Skrine's goal is to take families in need out every Saturday and he already has taken a group to a Knicks game.
Skrine yearns for more, so he is asking for people to sweat for a worthy cause. On Saturday, April 1, he will participate in a Pros vs. Joes workout at Life Time Athletic at Sky in Manhattan. Skrine along with some of New York's finest pro instructors will put people through a 40-minute workout for a $35 charge with proceeds to be split between Path Mentorship and Eternally Cherished. In addition to the workout, multiple artists and disc jockeys will be on hand as well as a comedian plus there will be a makeup station for all the single moms from multiple Boys & Girls Clubs. Current Jets expected to be in attendance include CBs Marcus Williams and Darryl Roberts, RB Bilal Powell and DE Muhammad Wilkerson.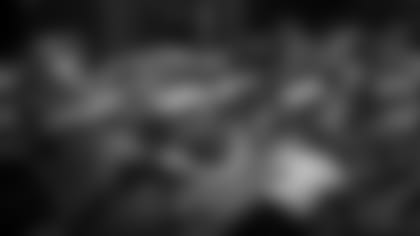 And if you can't make it on April 1, Skrine will be leading classes at 3:00 p.m. and 5:30 p.m. on Thursday and 5:30 p.m. Saturday at Kore. Four rounds and 40 minutes equal a boost for fitness and Path Mentorship.
"My first class was hard, but I couldn't scare people away," Skrine said. "I had to figure out a formula to where people will benefit, but it won't be too hard. I found some movements I could do and people kept coming. Now, every class sells out. I just look at it like a new movie because it's fun and has a nightlife atmosphere. When you go in the room, the lights are going and people are sweating it out for a good cause. You're benefitting your body and you're helping a family in New York, Atlanta and New Jersey."