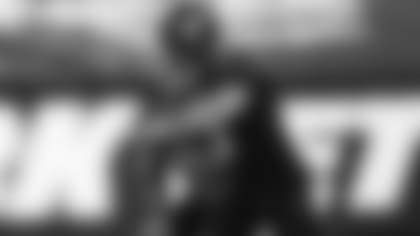 This is how Sergio Castillo Jr. finally fulfilled his American Dream while becoming only the second Latino place kicker in Jets' history.
He went from running a gym one morning in Amarillo, Texas, to running laps the next afternoon at the Atlantic Health Jets Training Center in Florham Park, NJ.
From punting and kicking on the practice squad to dressing for the active roster in 11 days after Sam Ficken injured his groin.
And from standing proudly for the national anthem at MetLife Stadium to booting a 29-yard field goal on the first drive of the game against the Buffalo Bills in Week 7.
"It all happened really quickly," Castillo said. "After the first field goal, I'm not going to lie, I was emotional. I was reminiscing on the whole journey to get here to this point. I shed a couple of tears. It was definitely an emotional day."
Castillo, who turned 30 on Nov. 1, was born in La Joya, Texas, a speck of a town on the border west of McAllen in the heart of the Río Grande Valley, where the United States and Mexico blend together. It is a hard-scrabble world of its own for some and a starting point for others.
In Castillo's case, his remarkable journey began as a child raised alongside four cousins by his mother, María Guadalupe Cáceres, his grandmother, María Trigo, and his aunts Tosie and Bertha.
"A lot of kids down there are raised in single-parent homes and the odds are greatly against us," Castillo said. "I was very fortunate to have my family."
It continued at La Joya High School, where as a junior he kicked a 58-yard field goal in the state playoffs, and then at Division II West Texas A&M, the only university to offer a scholarship.
"I wanted to drop out my freshman year because of racism and bullying," Castillo said. "My mom warned me that I would not be welcomed home. 'The Valley will always be here. But not your dreams,' she told me."
And after a brief stint at the Atlanta Falcons training camp in 2014 as an undrafted free agent with $107 in his checking account, it detoured repeatedly through the Canadian Football League, the Alliance of American Football and the XFL, with a brief hiatus to recover from a torn right ACL suffered in 2017.
In all, Castillo was signed and released eight times by seven teams.
"There were weak moments when I thought I would never get another chance," Castillo said. "But every day I get up and write down my goals. On how to be a better person, a better kicker, a better future husband, a better future father."
Castillo speaks in full sentences in English and Spanish and believes in the power of positive thinking, keeping on his wall at home a "Vision Board" with four photos that inspire him daily.
He is very much a child of his generation, bilingual and bicultural, raised on tortillas with beans and pan dulce (sweet bread) while embracing the Mediterranean diet to stay fit and healthy.
Castillo is also engaged to Adriana Cavazos-Loya, a school teacher in Amarillo, Tex. They are expecting a child in January. After football, he dreams of becoming a school principal and starting a foundation that rewards good grades with athletic equipment.
"As a first-generation Mexican-American, there are no blueprints," Castillo said. "That's why I want to use my story and show kids that there is a way."
On the Jets, Castillo follows in the footsteps of one of his idols, Mexican-born kicker Raúl Allegre, who concluded a nine-year NFL career with two games for the Green & White in 1991. In three games, Castillo has already surpassed Allegre, hitting 6-of-7 field goals, including a 55-yarder.
And while his immediate future depends greatly on Ficken's health, Castillo feels his faith and perseverance paid off when it counted and that long-awaited NFL audition is now "a confirmation."
"I'm still in awe," Castillo admitted. "I can't believe that I get to play for the New York Jets."