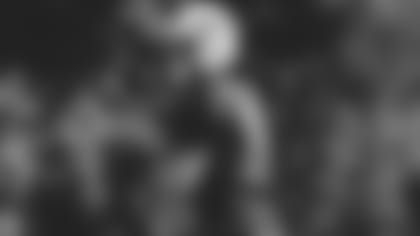 Sam Darnold will be at home in more ways than one this weekend.
For starters, the Jets' rookie quarterback will be back at MetLife for his second regular-season game in front of his home fans, who he says are "amazing."
And the opponents will make Darnold feel more comfy still. He's had positive interactions this year with several big Broncos, all of whom will be in the Meadowlands on Sunday.
It all began, Darnold said, during his predraft process when he worked out at Southern Cal for John Elway, the legendary Denver QB and now the Broncos' general manager, and head coach Vance Joseph.
"It was awesome," Darnold recalled. "It was cool to be able to meet those guys, and especially to meet John Elway and kind of understand his perspective on football and life, what he dealt with as a rookie. Coach Joseph is a great leader and John Elway has obviously built up a pretty good team there. We're really looking forward to going up against those guys, but during the draft I just kind of hung out with them for a little bit, talked some ball and was able to throw it in front of them as well."
Then there was the matter of Von Miller, Denver's uber linebacker. Besides being a vaunted sacker of NFL quarterbacks — his 87.5 career sacks are solidly the top total in the NFL in the last eight seasons — Miller is also a student of the signalcallers he tries to take down. And he said on a conference call with Jets reporters today that from his perspective, Darnold should have been the first overall pick of the April draft and not No. 3.
"It's pretty cool that he said it," Darnold said. "It's definitely very humbling, very flattering, but at the same time we're going up against him. A bunch of people know and I know he is one of the best players in the league, so nothing much needs to be said about him because everyone already knows that. We're going to handle him the way we need to and go about our business that way."
Sam seems to have avoided that rookie pitfall of being blithely buttered up by some big names during the week only to be taken apart like a boiled lobster on Sunday afternoon.
"It's a good feeling, I'm not going to lie," he said of Miller's praise. "But at the same time, I'm not worried about that — I can't be. I've got a lot going on in my own life with football and everything in terms of learning plays, executing, being on the same page with everyone on the offense. I'm not too worried about what other people are saying."
The Broncos, despite Miller's four sacks, are coming to MetLife with the NFL's 17th-ranked overall defense, 20th vs. the pass and tied for 17th in sack rate and are no doubt eager to pin their ears back against the rookie.
And if Darnold needs any more reinforcement about the dangers of Denver, he only has to talk with his Jets mentor, Josh McCown, who last year a mile high was sacked four times by the Broncos (once by Miller) and KO'd for the final three games of the season with a left hand fracture.
"As a team, I feel like we are really close," he said, "and for me personally I feel like I'm just on the edge. I've just got to continue to find completions, hit my guys deep when they're there. It'll come, it's just a timing thing. It's going to click one of these games, I know it is. It's just kind of waiting on that opportunity."
And Darnold won't mind if that game comes Sunday, his Broncos bonhomie notwithstanding.