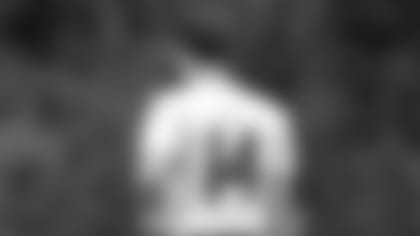 As far as positive attitude, Sam Darnold has cornered the market. The Jets quarterback spoke with media following Wednesday's practice and said all the right things about being ruled out for Sunday's game against Arizona and for wishing his replacement, Joe Flacco, all the success in the world.
"Yeah, it sucks not being able to be out there with the guys," Darnold said. "Even at practice today, not being able to practice, it sucked. It's not fun being hurt. All I want to do is go out there and play football with the guys, so again, not fun but I've definitely got to have a good mindset going into treatment and rehab, trying to get healthy and staying on top of it as much as I can."
With Flacco getting his first starting assignment as a Jet in his 13th season in the pros, younger men could get antsy about having to sit, but Darnold offered no concerns about passing his offense off to his fellow QB.
"Yeah, I see it every day," he said of Flacco's calm leadership skills. "Joe's a great dude, great competitor. He's going to lead this team on Sunday and I'm excited to watch. It's going to be really fun and he's definitely going to have an influence."
Darnold politely rejected the notion that the Jets shouldn't have returned him to the Thursday night game against Denver after he injured his right throwing shoulder late in the first quarter. He wound up missing only four offensive snaps on the night.
"At the time, they told me I could go back in and play, so I did," he said. "I had adrenaline running, I was ready to go. I got hurt and wanted to go back out there and compete because I felt like I could. It didn't hurt any more after I went in ... so no, I don't think it was a mistake at all."
Darnold said the shoulder is "painful at times" although there is no pain while "I'm standing here talking to you." Be that as it may, he wasn't ready to declare he'll be back in the lineup after a one-week rest.
But he also wasn't of the mind to drive any nails into his and the Jets' season despite the 0-4 start.
"I'm definitely glass-half-full on this thing," he said. "I always have a positive mindset toward everything. I think just looking at the season, did the first four games go the way we wanted them to? No. But there's a long season left ahead of us and we're just going to continue to take it one day, one game at a time."