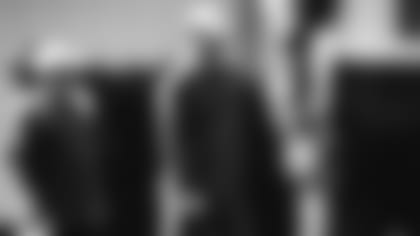 With an 0-3 record and a litany of injuries on both sides of the ball, quarterback Sam Darnold knows the Jets need a spark and he is itching to return from his bout with mono.
"I think, for me, I'm just going to go in there and control what I can control. Obviously, we need to fix some details at other spots as well, we're not blind to that," said Darnold, who returned to the team facility last week. "It's just about going out there in practice, in the meeting rooms, in walkthrough and not being shy about it either, not being worried about anyone's feelings. It's about getting this stuff right and we're going to get it right. It's just a matter of time."
The second-year signal-caller added, "We're going to go on a little run here. It's going to be fun, but it's going to take a lot of work. I know a lot of the guys on the team are willing to put in that work."
The 22-year-old Darnold is sick, no pun intended, of watching his team from the couch and received good news Monday in terms of his recovery even though his spleen, which has shrunk, isn't where it needs to be in order to play.
"Hopefully I get to do some light cardio [this week], ride the bike, maybe do some running if I'm allowed to, but really just trying to get back in shape, get back into as much playing shape as I can," he said. "We'll decide later in the week if I'm going to be able to throw or anything like that. That's something that we haven't talked about yet, but I'm sure later in the week we'll discuss that."
Since the 6'3", 225-pounder was diagnosed Sept. 12, his goal has always been to line up against the Eagles in Week 5 following the Green & White's bye. Although optimistic, head coach Adam Gase didn't want to jinx his quarterback's potential return.
"I don't want to get too far ahead of myself," Gase told reporters Monday. "We still, obviously, have a week to make sure that he's all good to go for next Wednesday, so that's really the aiming point for us trying to get him healthy. So, we're basically going to take that day-to-day and we'll have another update next Monday when he goes back and gets more labs."
Perhaps the most painful part of this process for Darnold has been watching the offense struggle from afar as the unit has averaged 183.5 total yards over the last two games and combined for three points.
"Even if everything was great and we were 3-0, I'd want to be out there helping the team," he said. "For me, as a competitor, I've always wanted to go out there and help my team win, so I'm anxious to do that and get healthy as fast as I can."
In other injury news, Gase said Mike LB C.J. Mosley (groin), DL Quinnen Williams (ankle) and WR Demaryius Thomas (knee/hamstring) are all "trending in the right direction" to return against the Eagles while RB-KR Trenton Cannon (hamstring) is week-to-week.