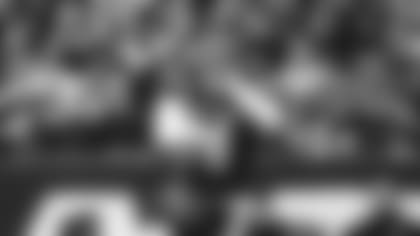 A win in the season finale at Buffalo on Sunday would give the Jets a 7-9 record despite a season that's been riddled with injuries and that began with a deflating 1-7 start. The Jets have captured five of the last seven games after their 16-10 win over the Steelers.
"I think every single day we're continuing to come in with a workers' mentality," QB Sam Darnold said. "With that mentality, just come to work and put your head down every single day no matter what the result is. Even today, I saw mostly everyone in here doing some form of treatment or watching tape. We're continuing to move forward. We have great guys in the locker room and we're moving in the right direction."
Darnold had a 95.5 passer rating against the Steelers' No. 5 pass defense on Sunday. He completed 16-of-26 passes for 183 yards and 1 TD. The only blemish was a fumble lost with 36 seconds left in the first half. T. J. Watt knocked the ball out of Darnold's hands and recovered it on the Jets' 41-yard line. Five plays later, with 9 seconds left in the half, Mason Rudolph tied the game, 10-10, with a 29-yard TD pass to Diontae Johnson.
"I think that part of the game could've swung things in the other direction, but it's a good thing that we have a really resilient team," Darnold said. "We were able to come back. Even though the score was tied at halftime, we were able to put a couple good drives together and I thought we've done a really good job. I think I've done a lot better job of managing the game during the last half of the season."
Coach Adam Gase added: "That was a pretty violent hit and a violent strip. Talking to [Darnold] afterward, there's a reason why this guy is doing what he's doing. He even said it feels a little different when that guy hits you. He got him pretty good. That whole play, going back and looking at it, I hate the call that I had. I hate the personnel grouping that I had. I put us in a bad spot. He was waiting on a route, which is 100 percent on me. I wish I would've stayed with a different personnel grouping, which would've helped him in that situation to get the ball out quicker. It was just a bad call by me that forced him to hold on to the ball."
When told that Gase blamed himself for the fumble, Darnold said: "I don't think that at all. It was the perfect play call; there was a guy open. I just have to throw it to him, get the ball out of my hands and not hold it so long back there."
Gase said that the team did a great job of taking their practices to the game and knew exactly what they needed to do to beat Pittsburgh. Gase added that Darnold played "exactly" how they prepared.
"I thought Sam did a great job of understanding, especially at the end of the game with about eight minutes left of huddling, using the clock, finding a way to get first downs and just making sure all those little details are right," Gase said. "I knew he wished he had the one where the snap was a little low and he started drifting back and he dropped it. I know that play he wishes he had back, but sometimes those little things happen where you can't have it happen in that situation."