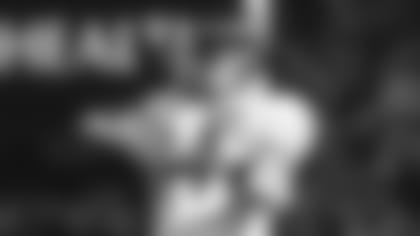 With the first preseason game in the books for the Jets, quarterback Sam Darnold wants the offense to continue its evolution.
"Details and fine-tuning some things," Darnold said when asked what the key to success would be for Week 2 of the preseason. "Really understanding that it is a process, but at the same time we do want to make another step and keep going in the right direction and play consistent football. I think if we can do that, then we can tell ourselves at the end of the game that we're heading the right way."
In Thursday's summer opener vs. the Giants, the second-year QB led the Green & White on a five-play, 75-yard scoring drive that ended in a 3-yard touchdown pass to WR Jamison Crowder. After displaying quick decision-making and accurate throwing in his brief appearance, Darnold wants to stay on the attack. 
"I think if we can control the tempo, we stay on the attack and the defense has to react to us instead of us reacting to what the defense is doing," Darnold said. "When you do the latter, I think it definitely hurts you as an offense. You play slower, and for me especially I'm thinking a lot more than I should be out there. If we just stay on the attack and just continue that good tempo, the defense must react to us and that makes it hard."
A gamer, Darnold knows the preseason contests are another important tool in the evaluation process.
"I think that's where we can really use these preseason games to our advantage, really understanding what guys do well. The fact of the matter is when the lights come on, some guys are just different. Some guys just play well, and we kind of got a glimpse of that during the preseason game," he said.
"There's a lot of guys that just up their game when the lights come on and it's good to see. As these preseason games continue, we're going to keep finding guys that play well. With this offense we haven't found anyone that shies away from the bright lights either. It's going to be really fun, we're going to continue to go out there and have fun playing football."