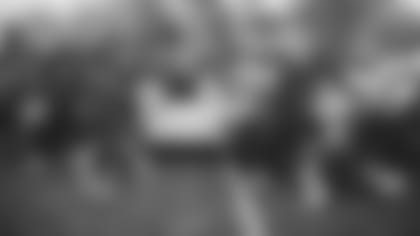 The Jets York Jets awarded a $50,000 scholarship to SFC Mina Strohmeier and her two daughters, Samantha and Brianna, Friday afternoon. At the end of the Green & White's workout, team officials surprised the Gold Star family with a check as players cheered.
Sgt. 1st Class Scott E. Strohmeier, a soldier who served with the 82nd Airborne Division, passed away from a combat-related illness in 2011 when he was just 34. His awards and decorations included a Bronze Star, the Meritorious Service Medal and the Army Commendation Medal. Born in Perth Amboy, NJ, Strohmeier grew up in Carteret and was an avid fan of the Jets.
"Today is the fifth day of the Jets' Salute to Service week. Today the Jets brought a Gold Star family down from West Point," said Jets military liaison Steve Casselton. "We had the mother, actually in her 20th year in the armed forces, and her two daughters, fourteen and sixteen-years-old, they lost their father years back, active duty in the military. So the Jets wanted to do something special, something life-changing for the family.
"What's something life-changing that every parent worries about? How are my kids going to go to college? And that's why the kids are here. The family doesn't know about it, the Mom has no idea the Jets are about to give them a life-changing donation to a scholarship fund for the kids."
The Jets have had different events throughout a Salute to Service Week that has been dedicated to the men and women who serve in the military and their families who serve along with them.
"It's special. I got to meet them today and it's a terrific family," Glat said. "Obviously the girls' father has passed away due to a combat-related illness, and just to see that we're doing something hopefully to make their life better, is something that we are certainly excited about. College education today, it's not inexpensive for anyone, and so if we can help, that's something we're trying to do."
Mina, who has served in the Army for two decades, is currently the NCOIC of a cadet mess hall where she helps serve 4,000 cadets a day.
"Joining the service is one of the big blessings. And I love what I do," she said. "I love it so much. Even being at West Point, I miss even what we do in conventional army. I miss it a lot. It's a great experience and hopefully once I retire from service, I will pursue with the UN helping not just our country but beyond."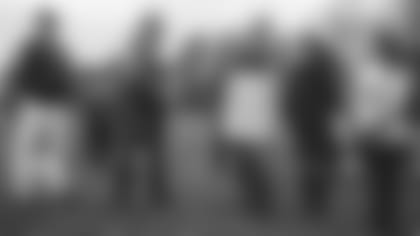 Sgt. 1st Class Scott E. Strohmeier gave his life to service. And when he wasn't on duty or with his family, one of his pleasures was following the Jets.
"Every obituary written up about him specifically stated he was the No. 1 Jets fan. So that goes back to the old adage, things happen for a reason," Casselton said. "The family we picked, we didn't know before. But this was something he lived and breathed being a Jets fan. And all the mom and daughters can talk about right now is that 'You know what he's looking down and smiling,' and 'Oh my god, they're on the field with the Jets.' "
And soon, Samantha, who has her eyes on Rutgers and loves photography, and Brie, who has interest in Brown or Harvard, will be headed off to college.
"You know, when I was watching them practice, I'm like, 'Your dad would have a heart attack if he was to be here," Mina said. "That's how much he loved the team."