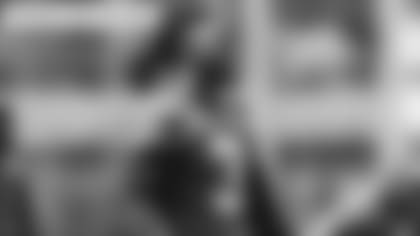 Every day at Jets camp, someone is talking up Aaron Rodgers from close personal experience. Either from a practice or a game, from in the locker room or in the meeting rooms, everyone's got a Rodgers tale or two to tell.
But not many can assemble the storybook that safety Jordan Whitehead is still putting together. Because two years before this offseason and training camp working with and against Rodgers, Whitehead was a Buccaneers starter beginning his second season of lining up against Tom Brady.
"When I used to be in Tampa with Tom, every day waking up, it was just an honor to play with him," Whitehead said after Thursday's practice. "My cousin, Darrelle Revis, had a Super Bowl with Tom, too. So little things like that just keep me going, realize what I'm doing and how grateful I am for this."
Oh, yeah, we forgot to mention his Revis connection. And of course, No. 24 will be enshrined in the Pro Football Hall of Fame on April 5, two days after perhaps Whitehead and some other Jets starters and lots of twos and threes play against the Browns in the Hall of Fame Game on Thursday night in Canton.
Anyway, getting back to current events, Whitehead sees a lot of Brady in what Rodgers has been showing his teammates all offseason and into training camp.
"Aaron comes up to us and talks about what we should've done, he jokes with us that he knows the coverages we're in," he said. "But it's getting us ready for the season. He's making us smarter, and we're trying to help him out and get him better, too."
While Brady was starting anew with the Bucs and Rodgers was winding up with the Pack, the Jets' safety position was going through a few transitions. In 2021, Robert Saleh's first season as a head coach and Jeff Ulbrich's first as a D-coordinator, the position was going to be manned by Marcus Maye and Lamarcus Joyner. Joyner lasted less than a half in the opener and Maye less than half the season before injuries struck. Ashtyn Davis, Elijah Riley and Will Parks all stepped up.
Last year, Whitehead came aboard as an unrestricted free agent and teamed with Joyner for most of the season, aided by Parks and by undrafted rookie free agent Tony Adams' late emergence. And he had a decent campaign, becoming the first player in franchise history to start 17 games in a season (no other Jet had more than 16 starts the past two seasons when 17-game schedules were in effect), coming in third on the team and tops in the secondary with 89 tackles, and unofficially posting eight tackles for loss/no gain, eight passes defensed and two INTs.
But he knows his first season in green and white could have been better.
"I'm always hard on myself. Anytime I have a bad play or I'm not doing my job on that play, I point the finger at me," he said. "I definitely believe I could've done a better job. A PBU to some people, they think good play, I think bad play. Missed tackle, bad play. Going on year six, it's just about moving forward and getting more chemistry with these guys."
Whitehead began OTAs first alongside Chuck Clark, then, after Clark's June season-ending injury, next to Adrian Amos. Davis returns, as does Adams. Saleh mentioned those last three as being in competition for the other safety starter's role, and the HC mentioned about Adams, "I guess the cat is coming out of the bag a little bit."
Meanwhile, the energetic Adams has high praise for Whitehead.
"He's like my big brother," Adams said. "J-White, Smash [Ashtyn Davis], LJ [Joyner] from last year, M, which is Marquand [Manuel, safeties coach] — I'm always leaning on those guys, being a sponge, because they've played at the highest level, so why not learn from them?"
Whitehead appreciates Adams' appreciation, but he's also glad to have the up-and-comer around for his own reasons.
"There's probably a guy every year in a position like Tony," he said. "He takes coaching great, he's a great listener, a great leader. He wants to get better every day. He actually made me realize that going on year five last year, when a guy's hungry and wants to make the team and fight for a starting position, it gets you back to the little things when you first came into the league. I appreciate that."
Whether your nickname is ARod or Island or the GOAT or even if it's a still unfamiliar-sounding TA, Whitehead will take inspiration wherever he will find it to help make himself, his defense and his team as good as he can.
See the top images from Thursday's open practice at Jets Training Camp practice on a steamy day.