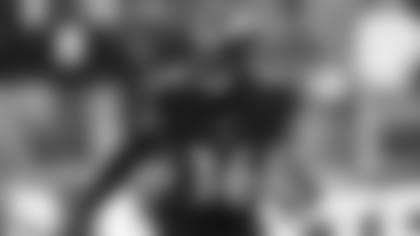 The Jets newly acquired safety Chuck Clark last season had the unique distinction of playing twice for the visiting team at MetLife Stadium -- first against the Green & White on opening day (a victory) and five weeks later against the building's other occupant, the Giants (a loss).
Now Clark, who was acquired from the Baltimore Ravens for a seventh-round draft pick in 2024, moves up the Northeast Corridor from the Charm City to the Big Apple and its bigger stage.
"It's definitely a place I'm semi-familiar with," Clark told team reporter Eric Allen on a new edition of "The Official Jets Podcast." "I took the train up a few times and moved around the city. I'm excited to play on that stage in New York and just be able to play there. I can't wait for the opportunity."
Clark (6-0, 205), who will turn 28 in mid-April, brings an edge, versatility and durability to a Jets defense that emerged as one of the best in the NFL last season, powered by young (Defensive Rookie of the Year Sauce Gardner and the emerging Quinnen Williams) and veterans (C.J. Mosley and D.J. Reed) players. In six seasons with the Ravens, he has dipped his toes into nearly every position on defense – safety (612 snaps), outside linebacker (133), slot cornerback (128), inside linebacker (55), edge (54), perimeter cornerback (50) and interior defensive line (15).
Perhaps what is even more impressive is that Clark last season played 100% of the Ravens snaps on defense in all but one game (when he played 99%!). In his NFL career, the Virginia native has missed a mere two games.
"I just think I'm a ballplayer," he said. "I'm a DB, but I'm a ballplayer. I don't classify myself as anything. If asked to go try something, I figure it out, get it done and play at a high level."
Speaking about his ability to avoid injury and stay on the field, he added: "I really try to not think about it. Anything can happen, it's a physical game and any time you step on the field, anything can happen. I just try to take care of my body, lifting, eating right. In my rookie year [2017, drafted out of Virginia Tech]. I'd be in the weight room stretching and Terrell Suggs came up to me. He said 'What are you doing stretching?' If you know his personality it didn't come off like that. Stretching, massage, he said he didn't do any of that until Year 4 and he said to keep that up. It stuck with me. Stay on top of your body. He played 15-16 years [actually 17 seasons]. You just have to stay on top of it."
On the podcast, Clark said that he had anticipated being traded before the start of the 2021 season, which didn't happen. He simply pushed his request to the side when the season started, all the while knowing the Ravens had drafted safety Kyle Hamilton with the No. 14 overall pick and signed free safety Marcus Williams in free agency. Nevertheless, Clark still went out and played all 17 regular-season games and eclipsed 100 tackles for the first time in his professional career.
"I wanted out of the last situation," he said. "Also, in this business you don't know what comes with it. It's a league of uncertainty. If you get released, you don't have a job. If you get traded, it's a new scenario. You never know, there's definitely a bunch of emotions.
"Honestly, I thought it was going to happen last year. I wanted out and I thought then I was coming to the Jets or Philly. The relationship ran sour. When I found out about the trade, I was headed to a workout. My phone started to go crazy. The workout was good to ease my mind."
Clark then got to speak with Jets GM Joe Douglas, HC Robert Saleh and DC Jeff Ulbrich, and also exchanged text messages with Reed, who had joined the Jets in free agency last year from Seattle.
"D.J. was excited to have me on board and said we're ready to rock out this season," Clark said. "I said I'm ready to ball out with y'all, turn a page, forget individual goals -- the playoffs are the minimum.
"With Saleh, we chopped it up on the phone. I heard all about him from talk around the league. And different guys said he's good with the players. I connected with him, and he's excited to have me over. The vibe was very welcoming."
As a sixth-round pick of the Ravens, Clark embraced a role on special teams, a task he said that many rookies are reluctant to accept.
"I think it's the way I got going in this league," he said. "It's like what happened in college. Then I started on specials my first year [in the NFL], making plays, tackles. That gets you a package, a role. Injuries happen and the next thing you know you go from being a special-team guy one week to a starter the next week. Now a lot of guys coming into the league don't sleep on specials, it can help your career take off. And there are a lot of guys who don't want to do it, they come in and say 'Man, I was just a four-year starter in college, why do I want to do that?'
"I just pride myself on getting to the ball and making a sure tackle. If you're not showing up on the film on every down, what are you doing? You got to get to the ball and make plays. That's what football's about, getting to the ball."
It's a new beginning for Clark.
"It's going to be different [this offseason], learning a new playbook, a new city, team locker room," he said. "How things flow day to day. Being somewhere six years you figure things out, then all of a sudden it changes. But it's nothing new that anyone hasn't done before."