Today at 12pm ET, the No. 3 Michigan Wolverines and the No 2. Ohio State Buckeyes will kick off for the 113th time in "The Game." Naturally, we had to ask some of the former Buckeyes and Wolverines around the Jets locker room about their game predictions.
Darron Lee: "I've got the Bucks all the way. We are going to the playoffs, O-H. David (Harris) doesn't want to bet me because their starting quarterback isn't playing, so he's already making excuses for Michigan. I tried to bet him that he would have to wear a Buckeyes jersey if he lost, and vice-versa for me, but he wouldn't do it. He did it with the Michigan State people because he knew he could beat them but I guess he doesn't know that he can beat us…so go Bucks!"
Jalin Marshall: "I'll be at the crib watching it and my family will be out here, so you know we are going to have an Ohio State party. I'm predicting a blow out for Ohio State. It's not even close."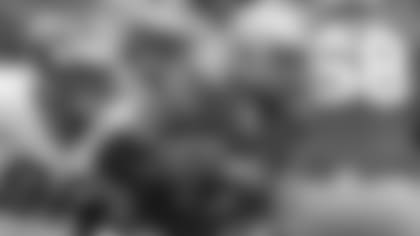 David Harris: "It's going to be a good game," he said laughing.