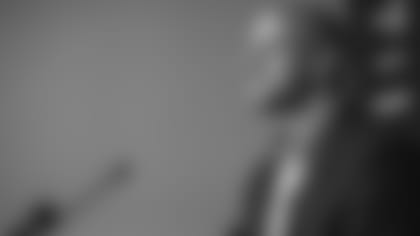 Deone Bucannon played safety in college then moved to linebacker when he was drafted by Arizona in 2014. Instead of answering to the name of his position, he called himself a "moneybacker."
That could sound like a bit of hyperbole, but in today's NFL, finding oversized safeties with coverage talent who can accelerate and break down space to play linebacker is often seen as a good bet and accelerating a trend. The Jets new Head Coach Robert Saleh is an energetic proponent of the hybrid model -- bringing the approach with him from San Francisco -- which came alive in last week's NFL Draft when the Jets selected Jamien Sherwood in the fifth round and Hamsah Nasirildeen in the sixth round. They each played safety in college but were quickly labeled as linebackers.
"In our scheme, with the chaos we create up front, our guys are more run and hit, more lateral players," Saleh said. "We look at them, these young men, they're down safeties, which is basically linebackers. There's examples all over the league where guys didn't play behind the ball or it's just very hard to evaluate linebackers nowadays with how the college game has evolved.
"What can we see from those guys? We can see their ability to read, diagnose the run, hit play coverage and understand the rough concepts in front of them. We feel like they would be able to translate to linebacker easily."
Sherwood (Round 5, 146th overall) was the first of six picks on defense after the Jets opened their draft by making four picks on offense. At 6-2, 220, Sherwood, a junior, started one season at safety for Auburn, collecting 75 tackles (3 for loss, 1 for a sack) and breaking up 2 passes in 11 games. He started the first 10 games before sustaining an ankle injury. On Tuesday, he became the first Jets' draft pick to sign an NFL contract.
Asked if he would be comfortable switching to linebacker, Sherwood said: "I'm more than comfortable. At the end of the day I'm a football player. My versatility got me here, so they could put me at defensive end or corner. ... I'm just going to go out there and make plays."
According to Kevin Steele, Auburn's defensive coordinator: "Jamien may be one of the best tacklers I've ever seen in the secondary. He's always had good coverage skills. He can be very, very special."
Nasirildeen (Round 6, 186th overall) had been projected as a possible Day 2 pick, but concern about an ACL tear in 2019 that cost him most of the season at Florida State caused the drop to the sixth round. Nasirildeen has good size (6-3, 215) but was sidelined for much of the season as he rehabbed. He suited up for the Seminoles' final two games last season. The Jets, however, were not deterred, seeing in Nasirildeen potential similar to that of Virginia corner Bryce Hall, taken in the fifth round in 2020 after missing time because of injuries.
"We're excited to get him," GM Joe Douglas said of the FSU product. "We had good talks about him with our doctors. He's a guy that loves ball, and it comes out. He didn't have to come back and play those last few games. He loves competing and being around his teammates. That's what we want on our team."
Nasirildeen started 17 games over the past three seasons, with 233 tackles and 4 interceptions for his career. He was a second-team All-ACC selection in 2019.
"I feel like the Jets got a first-round talent with myself, and the way I'm coming to work, I feel like they got a dog mentally," he said. "I just want to go out and show everybody what I can do, what type of player I am, what type of man I am, and let everything play out the way it's supposed to." He added: "I feel like playing in the box is the best part of my game," he said, "so I feel like it's going to translate well."
That kind of talk, some would call it bravado, and the size, speed, smarts and adaptability simply makes Saleh flash a big, big smile.
"Versatility, that's what we want," Saleh said. "Especially in a league where people are dropping. It's almost a war of attrition. To have versatile athletes step into different spots is what we want to be able to do. It's up to us to go out there and develop them."