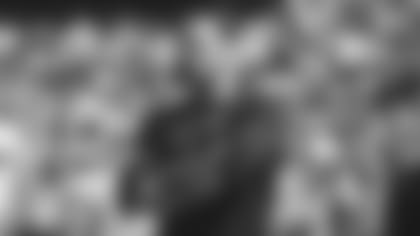 Fewer than 24 hours after their season-ending trip to South Florida, Jets head coach Robert Saleh had a quick, 100% cotton message for his players.
When they entered the locker room at 1 Jets Drive on Monday for "Baggy Day," a meeting and individual exit interviews, the players found hanging in their lockers a black T-shirt with a one-word message: FINISH.
His message was referencing the team's six-game losing streak to end the season that blew up an impressive and promising first 11 games when the Green & White seemed to stand on the precipice of the playoffs at 7-4.
"We played in these last six games we lost, I think five of them are in the playoffs and one won 7 of 9 and finished 9-8," Saleh said. "So it's a tremendous learning experience, one that stings because we didn't get it done, but we played real December football with butts on the line versus teams who were fighting for a playoff spot, too, who are in the playoffs and we battled with all of them, except for Jacksonville and Seattle. We battled with Minnesota, Buffalo and Detroit. We took Miami to a late field goal. So there was a lot of growth to be had."
But Saleh said there is more to it that springs from 2021, his first season in charge of the Green & White. The coaching staff simulated December football going through different situations of how to control their own destiny in the playoff race.
"It was a good little simulation," he said. "This year, we were in the real thing. We're sitting there with four games left, we control our own destiny if we win 3 of 4."
He concluded the riff by saying: "So the finish is that we're going to be in this situation -- one simulated, one experienced ... Now let's finish. And finishing doesn't mean wait until December. It means starting today. Everything we do is about finishing -- finishing our workouts, finishing whatever it is that we're doing. Make sure we have the mindset to finish because come next December we're going to finish."
Saleh repeated his commitment to developing quarterback Zach Wilson, who had a 5-2 record in his first seven games as a starter this past season, but who was also benched and spent four of the last five weeks of the season inactive as he began the "reset" the coach talked about. Asked if he would commit to Wilson -- who will be in third season in the NFL -- as the starter next season, Saleh was noncommittal.
"It's the same discussion I had with him, we're always going to cross the T's and dot the I's, but one thing I can promise him is that he will have an absolute chance to compete," Saleh said. "Whether he's our starter or not, whatever the decision, I will stand by what I've said in the past: The next four months ahead of OTAs, it's about him, not about the jersey. It's about getting his mind and physical parts right. He's a good kid, he works hard, he's only 23 and trying to figure all this out like I am. It's about him and only him."
Reflecting on the season, Saleh said he was proud of the vast improvement of the defense, going from overall ratings in the bottom of the league to being among the top five in the NFL in multiple categories -- worthy of a playoff team. On offense, clearly the lack of consistency at quarterback (the Jets started three different QBs and used a fourth, Chris Streveler) was costly -- as was the loss of rookie RB Breece Hall and versatile offensive lineman Alijah Vera-Tucker.
"I'm definitely proud of the guys, we fought all year," Saleh said. "At the same time, a lot of good things happened, 7-4 was not a mirage."
He added: "It always starts with the coach, it starts with me. It's not just the quarterbacks, the offensive line, receivers, the coordinators. It's all encompassing, there are 11 on the team. It's about finding out how we can get better together. We all own a piece of it."
See some of the top images of the Jets packing up after the 2022 season.