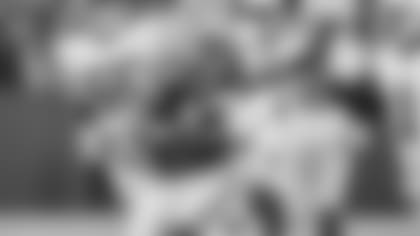 The Jets wide receiver room underwent construction in the span of seven days with the additions of Allen Lazard and Mecole Hardman, and then by the departure of Elijah Moore.
HC Robert Saleh is excited about what Lazard, the former Packers wideout who traded his green and gold for green and white after a career-high 60 catches and 788 yards in 2022, adds to the group.
"If you see him in person, that guy is just enormous," Saleh said. "He's got good ball skills, he's a really good target in the red zone. I've always made the comment that you want to be careful who you give your money to in free agency because a lot of complacency can set in. He's a guy that's kind of scratched and clawed his way through and you're just very confident that if you give him that money, he's only going get better, similar to D.J. Reed.
"And so with Lazard, there's a lot of different things he does very well, but his leadership and his mindset and his grind are hopefully going to continue to flourish."
The 6-5, 227-pound wideout went from an undrafted free agent in Jacksonville to catching 14 touchdown passes from future Hall of Fame QB Aaron Rodgers over the last two seasons. Lazard also is a good run blocker, which Saleh values.
Lazard and Corey Davis (6-3, 209) have similar body types. Before free agency, some pundits projected that Davis, who had 532 yards and 2 touchdowns this past season, would be a cap casualty. Instead, the former No. 5 overall pick is back for Year 3 with the Jets.
"Corey is a big, solid receiver," Saleh said. "He's done a lot of really good things for us in two years and definitely somebody that we want to keep with his leadership, his work ethic, the way he approaches every day."
After adding size, the Jets added "gas" in Hardman, who ran a 4.33 40-yard dash at the Combine and is a threat to score whenever he touches the ball. The 2019 second-round pick has found the end zone as a receiver, runner, punt returner and kick returner in 57 games.
"I know he ran 4.3, but he plays 4.3," Saleh said. "He's got elite field vision with the ball in his hands, he can blow the top off the coverage. It's very easy to get him the football with regards to jet sweeps, screens, bubbles and all that, but I think he's an underrated route runner, something that we're going to try to help him get a lot better at. I think he still has a lot of juice and a heck of a higher ceiling to reach as we develop the intermediate route running skills with him. He's one of those guys if you could just get the ball in his hands, he's going to make something happen."
Hours, if not minutes, after acquiring Hardman, Jets GM Joe Douglas dealt WR Elijah Moore, the team's second-round pick in 2020, and a third-round pick in April's draft to Cleveland in exchange for the No. 42 overall pick this year.
"That was a that was a tough decision because obviously Elijah is a really good player, a young player and on a on a cap-friendly deal," GM Joe Douglas said. "I think it was just a situation that came up where we had, a flood of calls, nothing really serious. Cleveland was aggressive in their pursuit. Ultimately, we felt like this was an opportunity to to bring value that we needed back to the team and back to the draft while also giving Elijah a great opportunity in Cleveland."
Despite the moving pieces, the Jets may not be done at wideout as they've been connected to free agent WR Odell Beckham Jr. Douglas confirmed he's spoken with Beckham Jr.'s agent and had productive conversations. There is no visit scheduled.
"You're always going to turn over every stone, cross your t's, dot your I's, just make sure you're not missing an opportunity to add a great player," Saleh said. "There's no guarantee anything will happen."