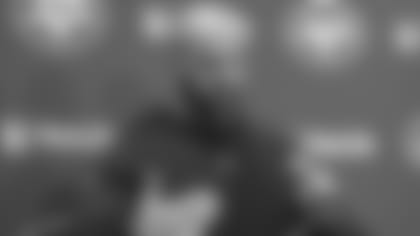 Several of the Jets used the same well-worn football metaphors to describe what happened to the Green & White at MetLife Stadium under the Monday night lights in their 27-6 loss to the Chargers.
"It was a lot of self-inflicted wounds," head coach Robert Saleh said somberly. "It felt like anytime we got momentum going, we just shot ourselves in the foot with penalties and turnovers. It's not good enough."
"Self-inflicted wounds," QB Zach Wilson said. "We'd just shoot ourselves in the foot."
Of course there were no lethal weapons used on the field and the wounds were figurative, not literal. At least the physical wounds. But the mental anguish was different.
"When you play at this level, you play on the offensive side of the ball, if you aren't angry, I'd think something was wrong," WR Garrett Wilson said of the offense's struggles in particular. "This is disappointing. It definitely messes with your psyche a little bit. But it's nothing we can't handle. We are professionals. We're going to push through this and it's going to be better on the back end. But I'd be lying if I said we were content with what we're doing out on the field because we're not."
The first quarter put a stamp on how the rest of this game might unfold. The offense went 3-and-out on its first drive. Then a rare special teams gaffe: Thomas Morstead's 59-yard punt was turned around as speedy returner Derius Davis sliced through the coverage for 87 yards and the game's opening score.
Then came two lost fumbles, both in Chargers territory, one by Garrett Wilson trying to fight for yardage after a catch and one by Zach Wilson on the first of eight sacks by the LA pass rush, a strip by Joey Bosa.
Then over the course of the game, there were a series of small but costly penalties — an illegal shift, an illegal formation, Allen Lazard's hold, Garrett Wilson's illegal block wound up wiping out 43 yards that the offense could have used to get off their touchdown/points schneid.
"It's all our jobs to score," Saleh said, deflecting the flak at his QB and the offense just a little. "To make the right play calls, to make sure we're doing all the little things, to not fumble the ball, to take care of the ball, to get positive yardage. It's all the little details we're ... it just wasn't good enough today."
But the coach continues to believe in the Jets' psyche, as Wilson put it, not only because he knows the character of the players in the locker room but also because while a lot of Monday's struggles were offensive, not all were. And so the fracturing that some worry about.
"It's a team game. You want all three phases," Saleh said. "Obviously, the special teams giving up seven is not good. It's been a pretty dominant group all year. ... We've got a championship defense, I know we do, and a young offense with a lot of moving parts.
"There's going to be frustration. People want to win. But the main thing, which I say to everybody, is just do your jobs, stay in your lane, focus on things you can do to get better."
And even the Jets defense, as potent as it has been — giving up in giving up just 191 yards, really only 13 of the 27 points, sacking QB Justin Herbert five times and posting five more 3-and-out series — could have been better.
"The defense had a couple of mis-fits on some big runs," LB Quincy Williams said. "You can't just point the finger at one group, see what I'm saying? Three core groups coming back and regrouping, special teams, defense and offense, playing complementary football. Let's be honest. They don't win if they don't score."
But the D didn't even have to be that superhuman against a struggling but dangerous Chargers outfit. The defense came up with no takeaways, even though two LA fumbles were within Jets players' grasps. Even though the visitors didn't move the ball well generally, they were much more effective in situations, especially on third down, where they converted seven of 16 opportunities (compared to the offense's 3-of-17).
"It gets to the point where it's disappointing coming off the field, looking the defense in the eyes and knowing we're going to send them back out there," Garrett Wilsons said. "It's time. We've got to figure it out."