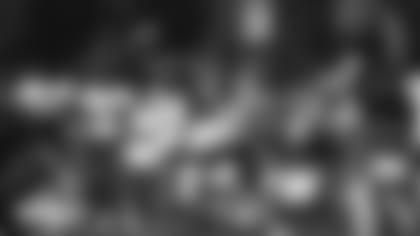 Robby Anderson is setting the bar higher for himself this year, and he's doing it with the help of former Steelers wide receiver Hines Ward. Ward, a two-time Super Bowl champ, Super Bowl XL MVP and four-time Pro Bowler, joined the Jets earlier this summer as one of their four Bill Walsh coaching interns.
"He's a great resource because he's done it at a high level consistently. He's a future Hall of Famer so what more can I ask for?" said Anderson. "I'm picking his brain, and he's more so telling me than I'm asking him, and I'm just staying on top of him. He's just trying to find ways to get me better in each way."
Anderson, who committed himself to developing strong habits to better his game this offseason, immediately bonded with Ward when he came on board as training camp staff. The two recently put in work during special teams periods of practice where Ward coached the fourth-year veteran on additional conditioning to help eliminate fatigue situations during the third and fourth quarters of games.
With the help of the former Steelers wide receiver, Anderson believes he's doing the right things to take the next step.  
"What I've done in the past is not what I'm trying to do," said Anderson. "I'm just trying to find ways to get myself to that next level and get better."
Part of getting to that next level will require developing solid chemistry with quarterback Sam Darnold in their second year as a duo. 
"I think we just have to communicate and be on the same page and create that rhythm," said the Temple product. "If we get going early, it's hard to stop us. I just think that once we get to that stage, it's just going to become pitch and catch, but it's going to start here."
The 6'3", 190-pound undrafted free agent connected well with Darnold down the stretch last season, catching touchdown passes in three of his last four games. He finished the year with 50 receptions for 752 yards and six touchdowns but wasn't quite satisfied with his overall performance. With a new head coach who has expressed confidence in his abilities as a receiver and added offensive weapons around him, Anderson is ready to make this year special.
"I want to seize my opportunities on more of a consistent basis," said Anderson. "I want to continue to work hard, stay healthy, communicate with Sam and succeed at my role."